Add a little something extra to your dessert tables this holiday, and no, I'm not talking about glitter or lights. I'm talking about a few delectable candies and confections. Those little bite-size sweets that melt in your mouth and make you say, "Aahhh."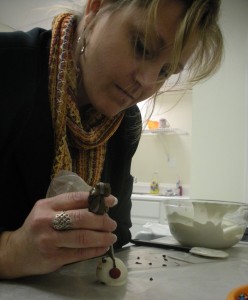 Pamela Powell-Warden at
Confection Delights
in Danville, Indiana, can help you find exactly what would tickle the palate of your guests. She's a one-woman sweetener, that's for sure. The great thing is the little tip she gave me about storing holiday sweets. The gourmet chocolates she has will last up to two weeks and the other novelty chocolates and candies will last several weeks! That means you can make the stop on the
Hendricks County Cookie Recipe Trail
at her shop and get everything you need for the sweets table, gifts and stockings at the same time. She might even have a little Cookie Recipe Trail surprise there waiting for you. If you're new to the Cookie Recipe Trail, it's easy to participate. You get an opportunity to pick up 12 cookie recipes by visiting each of the participating locations. You can get the entire list of locations by clicking
here
or by visiting the locations including Confection Delights. You use your smartphone to scan a QR code at each location or get a website to download the recipe online on your home computer. Every location has a different cookie recipe.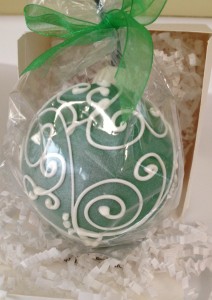 Back to the holiday sweets there because they are something else – brownie snowmen, chocolate ball ornaments with more chocolates inside, angel pops, caramel corn and nuts. Pamela also has candy letters that make great tags for gifts or stockings. Last year, my grandchildren loved the big A and big N that hung on their stockings. They were so beautiful that I had to point out the letters were edible and then it wasn't long before taste beat out the beauty. One of the best received hostess gifts I have given has been the fudge from Confection Delights. It's difficult to choose the flavor for the gift because of the wide variety she offers. You know, now that I think about it, if you want something in particular or a platter of truffles or her signature Ganache chocolates, I would suggest you call a week or so ahead of time to ensure what you want is available when you get there. Since she makes all her own confections and freshness is really important to her, the selection dwindles as the day passes. I don't want to let the cat out of the bag, but Pamela intends to have chocolate-covered strawberries available from December through February. They are something, let me tell you. My suggestion is to call ahead of time and order what you want because they go fast. That seems to be a recurring statement, isn't it? The Confection Delights shop is a little bit off the beaten path a block north of the Hendricks County Courthouse Square, but well worth the effort. So go ahead, treat yourself, your family and your guests to a new little sweetness this holiday.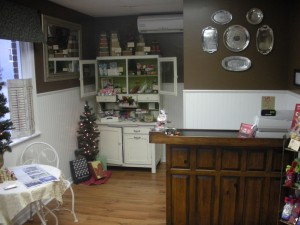 Confection Delights
41 W. Clinton St.Danville, INPhone:  (317) 718-7060.Hours: 10 a.m.–6 p.m. Tuesdays-Fridays and 10 a.m.–4 p.m. Saturdays.