I enjoy fishing, and I'm always searching for a new spot to visit.  I did a search of the the local parks in
Hendricks County
, and decided I wanted to go fishing at
Sodalis Nature Park
in
Plainfield, Indiana
.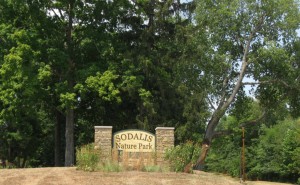 Let me tell you a bit about Sodalis Nature Park. First of all, I love the name. The name sounds a bit different, doesn't it? Sodalis is the name of an Indiana bat species (Myotis sodalis). The Indiana bat is endangered, and within Sodalis there is an established area to help protect the bats. I'm not the best with directions (which means I get lost easily), and I didn't pay close enough attention so I had to turn around once after I drove right by the sign for Sodalis Nature Park. I guess I was too busy listening to the radio and taking in the beautiful country scenery. Sodalis has plenty of parking available, and it took me only a couple of minutes to walk from the parking lot to the edge of the 5.5 acre pond. On the way to the pond, a fellow fisherman said, 'Hello,' told me he didn't catch any fish and wished me luck. It's what you do when you go fishing, you say hello and wish each other luck.
At Sodalis Nature Park, it is a catch-and-release pond, so anything you catch, you must put back. It was the middle of the afternoon, and it was just me casting into the pond. There were a few other fisherman there, but they were on the other side of the pond. I stayed in my spot for about 15 minutes and then decided to change spots to see if I could change my luck. I kept fishing for about 45 minutes and still didn't catch a fish. But that's the way it goes when you're fishing. Sometimes the fish aren't biting that day. I didn't care, I was having so much fun just relaxing with a beautiful blue sky over me.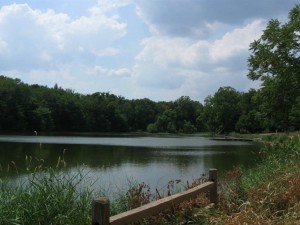 I decided to spend a few minutes walking around and taking pictures. What a beautiful nature preserve! While you're there it's easy to forget that you're just minutes from all the hustle and bustle. There are 3.5 miles of scenic trails, and there's also a picnic area. I can't wait to come back, and I will make sure to pack a picnic on my next visit.
Sodalis Nature Park
7700 S. County Rd. 975 E., Plainfield.
Why go? A gorgeous pond for fishing and plenty of walking trails. And, totally free!  That's right-- no fee!
Hours: Open daily, dawn to dusk, check the website for directions and more information (including information on nature programs, to learn about the bats and a trail map).
Tip: Pay close attention so you don't drive by the entrance, like I did.
Have a go-to park in Hendricks County or a go-to place for fishing?  I'd love to know.  Drop me a note in the comment section.