Racing season continues on Friday, June 6 on the straight track at
Lucas Oil Raceway
in
Brownsburg, Ind.
, when the
Goodguys Vintage Drag Racing Association
will visit
Hendricks County
for Friday Nite Drags -- a special event featuring two match races between NHRA Funny Car drag racing standouts
Ron Capps
and
Cruz Pedregon
.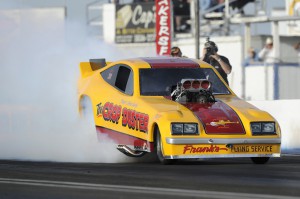 Goodguys racing features Funny Car dragsters styled after vintage 1970s production cars. These certainly aren't your typical production cars, though. These monsters burn nitro, burn rubber, shoot flames, and thunder down the drag strip. Capps is a 41-time NHRA national event winner, and he'll be behind the wheel of the "Crop Duster" 1977 Chevy Monza battling Brownsburg's own Pedregon, who will pilot the "California Charger" 1977 Pontiac Trans Am. Pedregon has 38 NHRA victories to his name.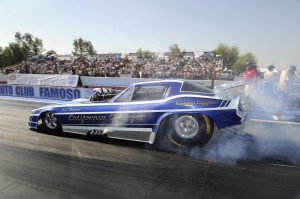 "Drag racing is all my family's ever known," Pedregon said. "These old school funny cars not only bring back great memories, they allow us to go out in a pressure-free environment and match race for fun. They sound good too." Capps and Pedregon will match race at 7 p.m. and 9 p.m. on Friday, but they're not the only ones rolling up to the start line. Gates open at Lucas Oil Raceway at 1 p.m., with time trials beginning at 3 p.m. and Sportsman eliminations starting at 6 p.m. A total of
seven vehicle classes
will compete throughout this one-day event that is sure to delight racing fans everywhere. It's the first time that Goodguys has allowed all makes, models and years of American drag racers in a single event. Fans who travel to Columbus, Ohio, or Puyallup, Wash., for the other two Friday Nite Drags events won't get to see the variety of racing that will take place on Friday at Lucas Oil Raceway.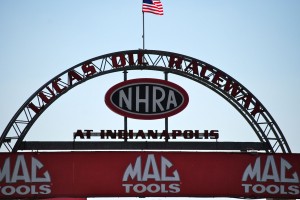 Normally, Goodguys only allow race cars from 1972 and earlier in Friday Nite Drags, but this event in Brownsburg will also feature two classes of cars from 1972 and later. It's been awhile since the Goodguys were at Lucas Oil Raceway. They held the Hot Rod Nationals car show there from 1990 through 2010 but haven't been back until this Friday night. "We're excited to get back to Lucas Oil Raceway" said Goodguys president Marc Meadors. "We spent two decades there building a legacy of hot rodding and vintage drag racing. We always get asked when we're coming back. As a drag racer myself, it pleases me to say we're proudly returning to one of the premier facilities in the history of NHRA drag racing." Admission to the Goodguys' Friday Nite Drags is just $20 a person, with kids age 7-12 getting in for just $6. Don't miss your opportunity to see Ron Capps and Cruz Pedregon highlight a unique racing event on Friday in Goodguys' long-awaited return to Lucas Oil Raceway in Hendricks County!