Visit
Hendricks County
around Halloween, and you'll find that it's a scary place. For two days in particular this month --
Oct. 19 and 26
-- no place in Hendricks County is spookier than Haunted Hargrave Hall in
Danville, Ind
.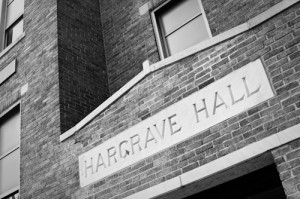 We have a lot of
great fall activities
here in Hendricks County, but we also have some haunted places, so if you're looking to put a chill up your spine or give your goosebumps goosebumps this Halloween season, this is the place to visit. Amanda Miller's research revealed
five haunted legends of our county
, and it's not hard to find locals who know a few more. One of the haunts Amanda found is Hargrave Hall. Hargrave Hall was once part of Central Normal College, and legend has it that it's haunted by the ghost of a janitor. The building later became the Danville Middle School and now serves as part of
Danville Town Hall
, located at 49 N. Wayne Street. I've been inside Town Hall and Hargrave Hall a number of times and never found it scary at all, so
last Halloween
, I asked Stan Wilson from
Danville Parks & Recreation
if Hargrave Hall is truly haunted. "You'll have to find out for yourself," he said, with a slightly evil grin on his face. The town did have this video made about things going on inside the building that you might want to check out before your visit. [youtube]http://youtu.be/RrozlAy5qAI[/youtube] Despite Stan's grin and this video, I had never been to a haunted house before, so I took him up on his offer and checked out the annual Haunted Hargrave Hall. The entrance fee isn't scary at all. In fact, it's just $5 a person to go through Haunted Hargrave Hall, with the doors opening at 7 p.m. and staying open until 11 p.m. on both Saturday nights. I haven't been able to find a place that gives you more "boo!" for your buck. So I slapped down my Abraham Lincoln and headed in, scoffing to myself at Stan's feeble attempt to spook me. "I'm a grown man, for crying out loud," I remember thinking to myself. "If Stan thinks I'm going to believe in ghosts, he's out of his mi........." That's about as far as I got with that thought before something -- and I'm not sure what it was -- jumped out at me. I did what any normal grown man would do:  I screamed like a little girl, hollered for my mommy, and ran. Unfortunately for me, I ran deeper
into
Haunted Hargrave Hall. I'll spare you the rest of the grisly details, but by the time I emerged from the haunted house, drenched in sweat and fairly certain that I had soiled myself on multiple occasions, there was Stan with a big smile on his face. "So is Hargrave Hall haunted?" he asked smugly as I was hunched over, trying to catch my breath and drop my pulse rate back down to double digits. My response was short, to the point, and not suitable for print in this forum, but the general gist of it was that I felt sufficiently spooked.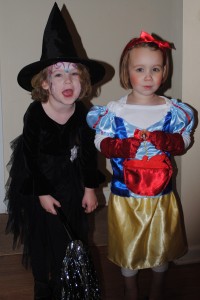 If you've got youngsters that you'd like to introduce to haunted houses without setting them up for years of psychological therapy afterward, Haunted Hargrave Hall is open with lights
on
from
5 to 6:45 p.m.
on
Saturday, Oct. 26
. For just $3 per person, you can get a much more scaled-down and age-appropriate "haunted" experience, and either before or after a trip through Haunted Hargrave Hall, you can take the kiddos to a safe trick-or-treat event at the Rec Center where there will be free candy, games and prizes during that time period. Visit Hendricks County on Oct. 19 and 26 and see for yourself just how spooky Haunted Hargrave Hall is!