During the holiday season, many of you may be invited to a cookie swap party or will need to make a cookie tray for the holidays. So I decided to go to an expert for the best suggestions to help you. Nancy Murrell, owner of Sweetheart Cupcakes in Plainfield, Indiana, suggests you make something extraordinary that you wouldn't often make.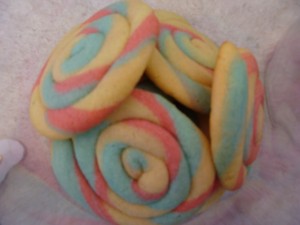 But this time of year is so busy for many of us, you may not have the time to bake something special. If that's the case, then that's where Sweetheart Cupcakes can come in. Yes, they do have delicious cupcakes, but did you know they also sell cookies? Nancy creates Frosted Sugar, Chocolate Chip, Peanut Butter Kick and Neverland (a strawberry, lemon, orange and raspberry flavored sugar cookie) everyday. So, if you don't want to bake your own, stop by Sweetheart Cupcakes. But even if you don't have a special party to prepare for, Sweetheart Cupcakes is one of those places that ever person with a sweet tooth must experience. In the heart of Plainfield, just south of Main on Vine Street, you will find
Sweetheart Cupcakes
.
Nancy opened her business Oct. 1, 2011, just as the cupcake craze hit to fulfill that love to bake for family and friends. Her cupcakes have become so popular that Nancy is planning to move to a bigger location in January.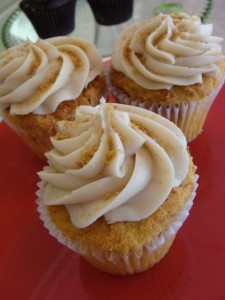 She makes more than 70 flavors, which rotate daily. All of the recipes are her own. You will always find Double Chocolate, Vanilla Vanilla, Southern Charm Red Velvet and Birthday Cake. To find out the flavors of the day, check the
Sweetheart Cupcakes Facebook page
. The day I stopped in, the flavors were Gluten Free Orange, French Toast and Dulce de Leche. For those of you in need of gluten free, stop by on Thursdays for a gluten-free option.
Cookie Recipe Trail
Sweetheart Cupcakes is stop #12 of 12 on this year's
Cookie Recipe Trail
. While in the bakery, be sure to scan the QR code on a display inside the store with your smartphone or pick up a flyer there and visit the special web address to get an exclusive cookie recipe. It came straight from Nancy, so you know it has to be good. In fact, this may just be that recipe you will want to make for your cookie swap. For more information on the Cookie Recipe Trail, 
click here
.
Sweetheart Cupcakes
111 South Vine Street Plainfield 317-203-5951 
Hours: 
Tuesday-Friday 11 a.m.-6 p.m.Saturday 10 a.m.-4 p.m. Sunday & Monday Closed