Some of the best gifts are those that are special enough to be framed and displayed on the wall. If you have something you'd like framed — and you want it done well — the folks at
Artistic Designs Gallery in Brownsburg
, Indiana, can help.
Frame worthy: think beyond photos and art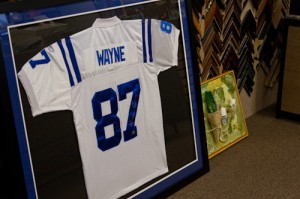 Photos and art are common items you can have framed, but
Hendricks County's
Artistic Designs Gallery does much more than that. They can frame:
Photos printed on canvas, which they can stretch for you
Mirrors
Fiber artwork, such as embroidery, cross stitch or quilt blocks, which they'll properly block, stretch, and secure with archival-quality material and no adhesives
Memorabilia like autographed jerseys
Wedding invitations and photos
Three-dimensional objects such as family heirlooms or war medals
They can also build custom cabinets for displaying collections and other 3-D items. Learn more on the
shop's website
.
Personal service for truly one-of-a-kind gifts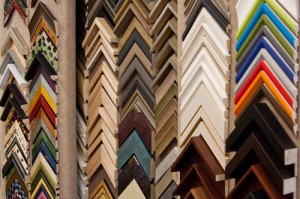 Artistic Designs Gallery offers more than 4,000 frame options, but don't let that intimidate you. They are trained to help you select the right frame. Owner Laura Tesdahl has a degree in fine arts, and the shop staff also includes people who specialize in interior design and fiber art. They'll work with you to choose the frame, mat and style, even the glass. Whether you're looking for something simple or truly personalized, they can help.
Framed gifts: plan ahead
When you go to Artistic Designs Gallery to have a gift framed, they'll need about three weeks to get it done and back to you — but if you want to make this a Christmas gift, you still have options. You can wrap a printed snapshot of what's coming, write about it in a card, or even take the recipient with you to the Gallery to let them be part of the framing process.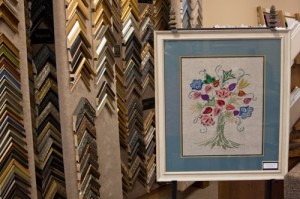 Artistic Designs Gallery also offers gift certificates, which can be used for framing items, art for sale in the gallery, and even the art classes and workshops offered throughout the year.
Get your exclusive Cookie Trail Recipe!
Artistic Designs Gallery is stop #2 of 12 on this year's Cookie Recipe Trail. Pick up a flyer while you're there to get exclusive access to their cookie recipe. By scanning the QR code with your smartphone or visiting the special web address, you'll get an old-world recipe that has been passed down through their family. Start your trip through this year's
Cookie Recipe Trail
today by visiting the website.
Artistic Designs Gallery 124 E. Northfield Dr., Ste. K
Brownsburg, IN 46112
(317) 852-0252 
Gallery hours:
Monday: by appointment
Tuesday: 10 a.m. – 7 p.m.
Wednesday: 10 a.m. – 5 p.m.
Thursday: 10 a.m. – 7 p.m.
Friday: 10 a.m. – 5 p.m.
Saturday: 10 a.m. – 5 p.m.
Sunday: by appointment