A few nights ago, I had the opportunity to attend
Hendricks Civic Theatre's
performance of "Moon Over The Brewery" written by Bruce Graham and directed by Camilla Upchurch. As an Indianapolis resident, I didn't even know there was a theater company in
Hendricks County
. I used to perform in plays in high school and college and worked behind the scenes. So I enjoy watching live theater, and I was excited to take in a performance of "Moon Over The Brewery."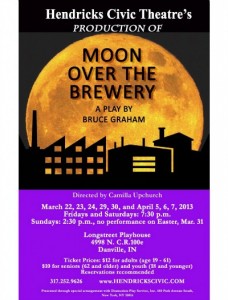 The best part is you still have a chance to see this wonderful production as well the next two weekends. More information on times and tickets will come later. First let me tell you a little about the production, which I wasn't familiar with before attending. "Moon Over The Brewery" is about a high school girl named Amanda (Morgan Ray), who lives with her waitress and artist mother, Miriam (Sara Klimenko) in a rural coal town in Pennsylvania. It's always been Amanda and Miriam together and Amanda likes it that way. If Miriam has a boyfriend, Amanda manages to get rid of him, with help from her imaginary friend Randolph (Jeremy Grimmer). It's been a while since Miriam's dated anyone, and Amanda enlists Randolph's help again to get rid of her mom's new boyfriend, Warren. Will Amanda and Randolph be able to chase off Warren or have they both met their match? "Moon Over The Brewery" is part comedy (with Amanda and Randolph's antics) and part coming of age story. Is Amanda ready to grow up a bit and see her mother happy? You'll have to find out for yourselves. And, the title? You'll have to find that out, too! I enjoyed the performances – such a talented cast of actors (who all have a long list of impressive credits): Morgan Ray as smart and savy, but not ready to grow up, Amanda, Jeremy Grimmer as the gregarious and theatrical Randolph, Kevin Shadle as polite and smarter than he appears, Warren and Sara Klimenko as the talented artist, but sometimes exasperated mother, Miriam. Their director, Camilla Upchurch did a fantastic job of striking the right balance between comedy and drama. The cast and crew worked hard on this production (they rehearsed for about seven weeks) and their hard work definitely paid off. Longstreet Playhouse is an ideal place to see live theater. It's a small theater so we were able to sit close and feel like we were part of the show. I'm looking forward to seeing Hendricks Civic Theatre's next production and know it will be fantastic. Don't miss out on the chance to see "Moon Over The Brewery" or any of their other upcoming productions. You can see a complete list on their
website
. This is your opportunity to see live theater at very reasonable prices.
Here's the details:
"Moon Over The Brewery"
See It: 7:30 p.m. March 29 and 30 and April 5 and 6 and 2:30 p.m. April 7. (*Please note: no performance on Easter)
Tickets: $12 (ages 19-61); $10 (seniors, age 62 and older and youth ages 18 years and younger)
Location: Longstreet Playhouse, 4998 N. County Road 100 East, Danville. (If you haven't been to Longstreet Playhouse, I recommend printing off directions before you go, which helped me a lot, because I wasn't familiar with the area.)
Reservations: Recommended. For more information, call (317) 252-9626 or check the Hendricks Civic Theatre website.