I can smell it from here...can you? The smell of funnel cakes frying and corn being dipped in butter.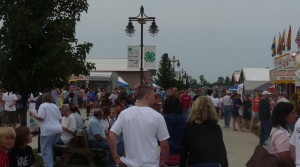 That's right, it's time for the annual
Hendricks County 4-H Fair
! Now that I have your mouth watering, I want to help make your visit to this year's fair the best yet for you and your family! The Hendricks County 4-H Fair is a great and inexpensive activity for the whole family to enjoy and will take place
July 15-21
at the
Hendricks County 4-H Fairgrounds and Conference Complex
, 1900 E. Main St., Danville, Indiana. We all know of the traditional fair activities including: viewing animals, fair food, showcases of arts & crafts and fun rides. This year's fair will have all of that and so much more. This year, I challenge you to shake your fair experience up with some of the new offerings at the fair. There are so many things to spotlight but I have chosen just a few to share with you.
Click here
to check out everything going on this year at the fair!
First, get excited for two of country music's up-and-coming artists, David Nail and Hunter Hayes! These two highly followed country stars will perform at 8 p.m., Saturday, July 14 in the covered Equine Center. Tickets are $15 in advance and $20 at the door. Not only is the price right, but the fair board promises a clean and family-friendly event as there is no alcohol allowed on fair property. What a great chance to take your little ones to their first country show! Now let's talk kid events. This year, the fair has added several events focused on younger children! Back by popular demand and something I think my daughter would absolutely love is the Swifty Swine Racing Pigs. This activity drew massive crowds at last year's fair. After all, who doesn't want to watch little greased mini pigs race? This event will be held at the end of the Promenade at different times throughout the week. Need some time to coral the kids and take a seat? You will want to check out the new kid-focused game show, Kidbuck$, in the Promenade. This show promises to be a "thrilling, high energy show the whole family will love." Other new activities this year focused on young kids include the High Flying Pages & Aerial & Animal Equestrian Show and Junior the Fair Bear. Junior will be hanging out around the Sponsor Shelter all week. Take your kids by to say, hi!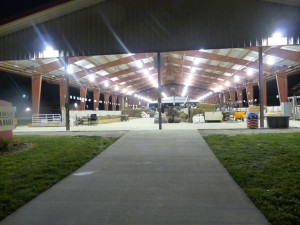 These are just a few of the pages and pages of events during Hendricks County 4-H Fair week. Wow...sounds like a great time to me! For just $5 a carload, it really can't be beat! Grab the sunscreen, hand sanitizer (for all the animal petting) and load up the kiddos for the 2012 Hendricks County 4-H Fair!
Let me know what event you and your family are looking forward to most at this year's fair by commenting in the section below!