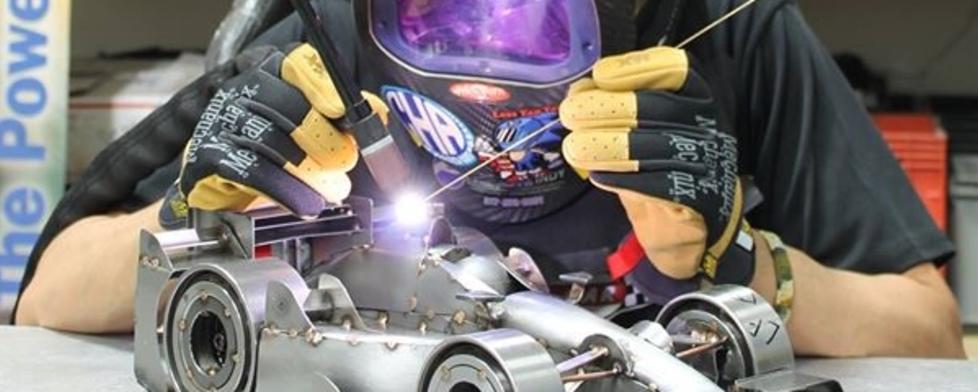 Take a drive through Brownsburg and you'll see signs of the town's rich motorsports culture and history almost everywhere you go. As you drive in on Ind. 136, you'll often find thousands of race fans enjoying one of Lucas Oil Raceway's events.
Just down the road, you can get a delicious barbecue meal at Pit Stop Barbecue & Grill where the walls are covered with racing memorabilia and a midget car is parked in the middle of the buffet area. Northfield Drive, which is adorned with racing-themed banners, is the home to motorsports teams such as Don Schumacher Racing, John Force Racing and more.
And tucked away in the middle of it all is the Cold Hard Art workshop, where welder and fabricator Tom Patsis creates amazing vehicle replicas, trophies and more from scrap metal and auto parts.
I just learned about Cold Hard Art recently, and I was blown away by Patsis' work.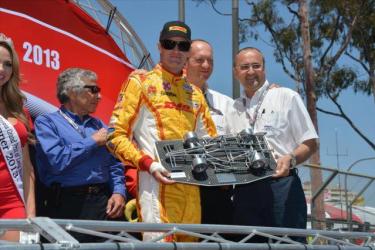 Patsis graduated from the University of Northern Ohio with a degree in automotive performance, welding and alternate fuels. He began his career in motorsports working for Don Schumacher Racing, where he worked on the Pro Stock team for six years before moving to the fabrication shop.
To improve his fabrication skills, he would practice during his time off and started making creative pieces. After making a custom replica for a friend and then placing in a welding competition, Patsis started making more and more connections and his business really started to take off.
Since then, he's made custom pieces for Ryan Hunter-Reay, Danica Patrick, Brittany Force, and even Mike Pence, plus trophies for organizations like the NHRA and NASCAR. In October 2015, Patsis and his wife and businesses manager, Amanda, moved the business from their home garage in Danville to a workshop on Northfield Drive.
I had an opportunity to talk with Patsis over the phone recently and he was so enthusiastic and down to earth that I felt like I was talking to an old friend. Starting a new business, he said, was a "leap of faith," but it's working out well. He credits a lot of his success to his wife, whom he refers to as "the boss" of the business.
"I don't really do anything," he joked. "I just weld and make stuff. I'm kind of spoiled."
But Patsis really doesn't give himself enough credit because his pieces are incredible and a lot of creativity and time goes into each one. While some of his pieces, mostly trophies, are designed on the computer to ensure consistency, most of Patsis' work is created using just a hand-drawn sketch for inspiration.
Patsis said for vehicle replicas, he usually starts with the wheels and then works from there. Most replicas take around 30 hours for him to make, and sometimes he has to wait until inspiration strikes to complete a piece.
"It's fun to make something that someone really appreciates," Patsis said.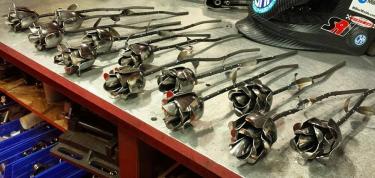 Even though I don't personally have any ties to racing and would probably never need a custom replica, I love that Patsis also makes smaller pieces that average Joes like me can appreciate. For example, I would love for my husband to buy me an ever rose for Valentine's Day, and I know my husband would enjoy a Cold Hard Art pencil holder for his desk at work.
So whether you're a racing enthusiast or just appreciate custom, handcrafted artwork, be sure to check out Cold Hard Art.