Ever wondered what the local restaurant chefs and owners like in
Hendricks County
, besides their own grub of course? Well, I decided to find out by playing a little game of pick your favorite dish, and what I found was interesting. I had to start this exercise with picking
my 
favorite local dish. It is hard to pick a single favorite in Hendricks County because we have so many good restaurants here. I adore the French Silk pie from
Bread Basket Cafe and Bakery
in Danville, relish the canolli from
Sal's Famous Pizzeria
 in Plainfield, and love to dig into the fries and aioli with my 3 year old at
Black Swan Brewpub
(his favorite) also in Plainfield.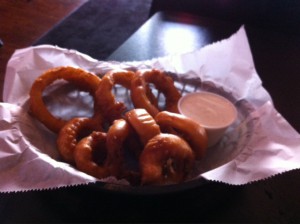 The list of local establishments serving a wide variety of dishes that are beyond delightful in Hendricks County continues to grow, but I decided to stake my "favorite" claim at
Diesel's Sports Grille
in Danville, the grill and pub owned by Scott Hill, who spent decades catering for friends and acquaintances of mine in IndyCar circles. You could say the place is distinctly "West Side" from inception to fruition. And, while I've never had anything but outstanding food from there, my favorite is a pretty typical, stand-by sidedish: the "lowly" onion ring. Which means, for it to be my (consistent) favorite, it must be pretty darn good. The secret? According to owner Hill, all of the fried foods are hand-breaded, and the onion rings in particular are coated in a batter made with -- get this -- PBR. That's right; the tastiest onion rings I've ever consumed anywhere are the baby of onions, grease, and Pabst Blue Ribbon. Trust me, they're worth a go. So with my decision out of the way, I decided to go down the wormhole a bit and start this exercise by asking Scott: "What's
your
 favorite local dish?" and so on, and so on, a few times through. Here's the list:
Diesel Owner Scott Hill: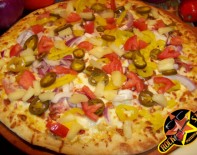 "If I had to choose one, it would be the Caribbean Twist from Rock Star Pizza in Brownsburg. It is by far the best homemade pizza around."
Tag! You're it Ron Matthews, owner of Rock Star Pizza.
Rock Star Pizza Owner Ron Matthews:
"I think our pizza is special because it is truly homemade. As far as my favorite, it would have to be Pit Stop's (in Brownsburg) Barbecue Ribs. They are the best!"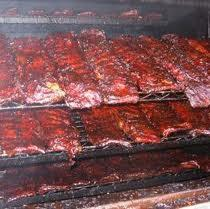 So, I then asked Amie Herron at Pit Stop BBQ and Grill what makes their ribs so delicious.
"Our bbq ribs are slow smoked with wood for up to 12 hours a day, and that's after using a dry rub. I would say that's different than a lot of other barbecue places. And, if I can be honest, my  favorite local dish is our brisket. I'm not going to lie; I eat here almost every day!"
There you have it. It appears that while I may be well-acquainted with Hendricks County cuisine, there are a few joints and dishes I have missed. Barbecue and pizza are two of my family's favorites to grab on the weekend when I'm through with cooking for the week. We may just have to take a jaunt up to Brownsburg.
Info to go:
Diesel's Sports Grille20 W. Main St., Danville317-386-3024
Website
 Rock Star Pizza--Brownsburg:922 E. Main St., Brownsburg317-838-1158
Website
 Pit Stop BBQ and Grill:932 E. Main St., Brownsburg317-858-8370
Website