Most of my activities revolve around food…there I said it. It's really true. You mention an activity of any kind with something delicious and I am all about it! That being said you combine this with my love of fall, and you can imagine the time my brain spends focused on fall/food activities! In my opinion, what makes the total experience is being able to have a fall food experience locally with locally grown items!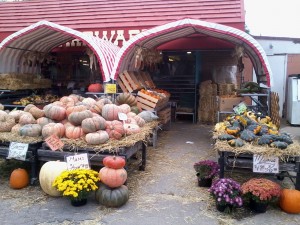 Just so happens
Hendricks County
is the perfect place to get your fill of local fall products at roadside farmers markets and u-pick stations. Just this week, my daughter and I ventured west on U.S. 40 through some of our county's most beautiful farmland. The drive itself was truly amazing. The colorful trees adorning the open fields are a true sign of fall.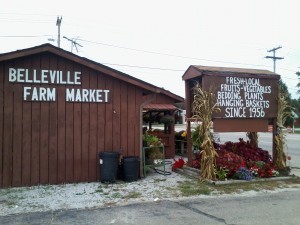 As we made our way out of Plainfield and to the edge of Clayton, I was reminded of one of my favorite little markets growing up, the
Belleville Farm Market
. This market has been around since 1952 and family-owned by the Franklins for more than three generations. This quaint market has all you could want for your fall gathering: squash, gourds, mums, pumpkins, apples, cider, Dillman Farms jellies & jams and much more. The selection at this market is wonderful, and the prices are great. This market boasted items that were beautifully presented and cared for. You've got to check this market out! It is located at 1812 E. U.S. 40 Clayton, IN. Hours of operation are 10 a.m.-7 p.m. Monday-Sunday.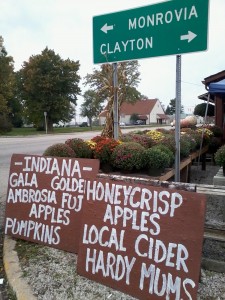 After my pit stop to the Belleville Farm Market, we headed a few more miles west to the very edge of Hendricks County for the small town of Stilesville. On our way to Stilesville, we ran upon a few homes off U.S. 40 who had set up some of their very own roadside stands. I wasn't able to stop with my little one in tow but often times these can be some of the best stops you will make. My destination in Stilesville was the famed Cooper's OK Hardware & Country store. As one of the few shops in this small town, this store boasts a variety of products. This time of year though they use their roadside convenience as a beautiful store front with many fall products. They had a full fall display with mums, gourds and some of the largest pumpkins I've ever seen!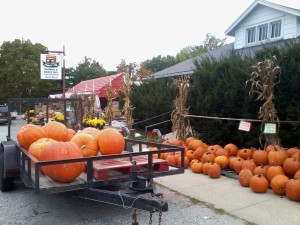 Your kids want a giant pumpkin? This would be a great place to take them and watch their eyes light up as they find a pumpkin half their size. (Note: You might need a hack saw and shovel to carve these things.) This wonderful country store and market has great small-town charm and an unbelievable selection. You can check out Cooper's OK Hardware & Country store yourself by visiting 6116 W. U.S. 40, Stilesville, IN. These two markets are just a few examples of some of the wonderful markets we have in Hendricks County for farm-fresh produce and other fall items. Be sure to check out the list below for some other locations in Hendricks County to get your much needed fall items:
I hope you take a trip to support some of Hendricks County's local markets. This time of year, it provides the perfect side trip if you're visiting for other reasons. Not only would you support local business and agriculture but load up the kids and the camera, and you are sure to make some fun fall memories!
My favorite fall market item has to be some good local apple cider. So what's your favorite item or stand? Please share in the comments section below.