For 10 wonderful years, a partnership involving the Indianapolis Indians and
Hendricks County
has led to a summer tradition, Hendricks County Family Night at Victory Field.
Having been a part of this night on numerous occasions, I can't express in words how fun it is to take in an Indians game with your family while the county you live in is recognized. But the sponsors -- Metrpolis Mall, Hendricks Regional Health and Visit Hendricks County -- felt after a decade, the tradition was due for a makeover. So, on Sunday, June 23, the traditional weeknight event moves to a weekend day game and becomes Hendricks County Family
Day
at Victory Field. First pitch for the game is scheduled for 1:35 p.m. as the Indianapolis Indians take on the Charlotte Knights, the Triple-A affiliate of the Chicago White Sox. We couldn't be more excited about hosting this event on a weekend. So, to celebrate, we are giving away three sets of four tickets free to anyone who comments at the bottom of this post telling us what they love about Hendricks County. We will announce the winners on June 14. In case you aren't one of the lucky winners of the free tickets, we have another special two-for-one offer. All Hendricks County residents and readers of this blog can simply use the promo code "Hendricks" when purchasing the tickets for the June 23 game and get that buy-one-get-one free offer online at
IndyIndians.com
or in person at the Victory Field box office. The offer is valid for any available seat including the $10 lawn seats, $11 reserved or $15 box seats. As an added bonus, because it is a Sunday, all children 14 and under will receive a voucher when they enter the stadium for a free lunch, which includes a hot dog, bag of chips and a bottle of water.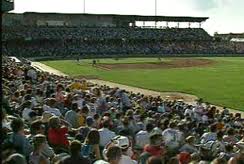 What do you say Hendricks County residents and frequent visitors, can we pack the house on June 23 and show them what Hendricks County pride is all about!? Let's win one for the Gipper! OK, my pep talk is over now.