There was a time in
Hendricks County
when you could go to a Fish Fry almost every weekend from the first of June to the first of August. It was great seeing your friends and enjoying mini-reunions with family. The parting comment was always, "Well, I guess we will see you next week at the _____ Fish Fry!"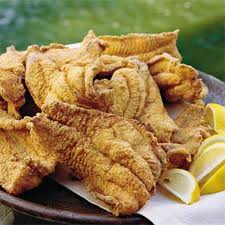 Nowadays, you have to wait a couple weeks in between Fish Fry days but it is always worth it. Plus, you are helping the sponsors raise money for community activities. So, whether you are a local or a visitor, you can get a true taste both figuratively and literally for a Hoosier summer tradition by attending one of these community events. The 62
nd
Amo Fish Fry kicks off the 2012 Fish Fry season this weekend, and for a little town, they put on a BIG Fish Fry! It opens on Thursday, June 7 and Friday, June 8 at 5:30 p.m. and continues on Saturday, June 9, opening at noon. When my grandparents lived in Amo, we would walk down the hill on Amo Road to Main Street, and it was so neat to see all the brightly colored tents, hear the music, and smell the delicious food being served. This year, each night has a special theme. On Thursday, it is Cascade Youth League Night. The Hendricks County Antique Tractor & Machinery Association will also have an antique tractor drive starting at 6 p.m. from the Interurban Station to the school grounds at Mill Creek West. That evening, in a twist for a Baby Contest, bring a photo (no larger than 5 x 7) of your child, age birth to 3 years. On Friday and Saturday, the photos will be displayed so people can vote with pennies for their favorite. Friday is Family Fun night! There will be games, skill competitions, raffles, bingo, and a kids' tractor pull. Saturday is Bicycle Safety Day.  Two bikes will be raffled off and free bike helmets will be given away. A true hometown parade begins at 2 p.m., and the festivities end that evening with a fireworks show. Every day will feature an antique tractor show, games, a commercial tent and, of course, the great food. Country band, Southern Bridges, will perform every evening at 8 p.m. The Fish Fry is hosted by the Amo Fire Department and Cascade Youth League. Other Fish Fry events throughout the summer in Hendricks County include:
59th annual Hazelwood Fish Fry - June 28-30. In addition to great food, there will be live music, games and rides for children. There is also a truck and tractor pull event in the arena. The Fish Fry is sponsored by the Hazelwood Firefighter's Association.
Avon Optimist Club Fish Fry - July 19-21.  It will be located in the lot in front of the Avon Wal-Mart.
68th Plainfield United Methodist Church Fish Fry - Aug. 3 and 4 in the church parking lot.  This is the oldest Fish Fry in the county.  They even have drive-up service!  On Friday from 11 a.m.–1 p.m., they serve the lunch-time crowd with drive-through service.  That evening they open from 4–8 p.m. and have seating or take drive-up orders.  On Saturday, they start serving at 11 a.m. and go until 8 p.m. or as long as they have food.  You will want to get there early for a good choice of their homemade desserts.  Their youth groups have even learned how to bake pies and supply a large variety.
Lizton Lions Club Fish Fry - Aug. 10 and 11.  On Saturday, a car show will be held from 3 until 6 p.m.  Activities will be at the Lizton Lions Club Park off U.S. 136.