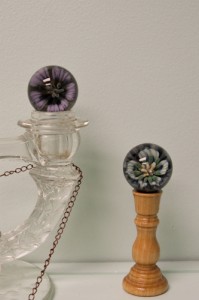 Looking for a one-of-a-kind holiday gift for someone on your list? Consider something handmade by a local artist. Not only can you find many great shops around
Hendricks County
, but dozens of incredible artisans call this area home. I chatted with glass artist Samma Parcels about her work, and she even shared some of her favorite places to visit in Hendricks County.
Becoming a full-time glass artist
Samma Parcels' artistic affair with lampwork didn't start with love at first sight. Ten years ago, she spent most of her creative time working with seed beads. She met a group of women who where using torches to melt glass, but she tried it and found that it didn't appeal to her. Three years later, she tried lampwork again and has been hooked ever since.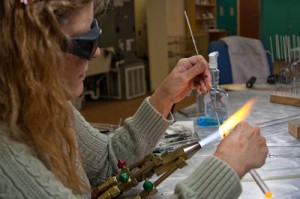 Today, she's co-owner of
Indy Flame Art
. She left her office job nearly two years ago and is now a full-time glass artist. "Quitting the corporate world is the best thing I've ever done," she said.
What she loves about working with glass
Samma loves the way the glass moves when it melts in the flame. Sitting and watching her at work, I soon understood what she meant — it was fascinating to watch. These quick videos will give you just a glimpse of her process: [youtube]http://www.youtube.com/watch?v=DI8ISfTEV5w&list=UU8x_r855M4mdwKchMOG5J1w&index=1&feature=plcp[/youtube] [youtube]http://www.youtube.com/watch?v=e3dltCggL-c&list=UU8x_r855M4mdwKchMOG5J1w&index=1&feature=plcp[/youtube] Each finished piece is entirely unique, which can admittedly be a challenge if she's trying to create a matching pair of beads for a customer. One shade of reactive glass can result in many colors, depending on the proportion of propane to oxygen used in the burning torch. Samma primarily works with borosilicate glass, a hard glass that is strong and durable when it cools, making it a great glass for beads and pendants because it's not too fragile.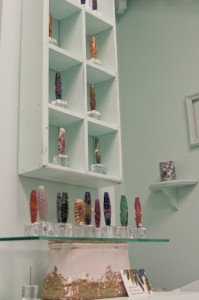 Recommendations from a Hendricks County native
Samma is a third-generation Pittsboro resident, so she's definitely an authority on the area! I asked her to recommend some of her favorite places in Hendricks County, and right off the bat, she said she loves the growing community of local shops and artists you can find here. For a specific destination, she suggests you visit Finer Things in Brownsburg, and be sure to grab a bite to eat at
Dawson's Too
or
Boulder Creek Dining Company
while you're in town.
Where to find Samma Parcels' work
Ready to do some local-artist holiday shopping? You can find a wide variety of Samma's pieces, including handmade glass ornaments, at
Finer Things
. She's even teaching a class on Wire Work and Glass Bead Art at Finer Things on Monday, Nov. 19. The class is offered at noon or 6 p.m. Learn more and sign up on
Finer Things' Facebook
page in the
Events
section. Also, check out
Samma's Etsy shop
or stop by the
Indy Flame Art
gallery and studio from 6-9 p.m. on the first Friday of every month. Happy shopping!