I recently had my first flight and hotel stays over fall break. I had kept in touch with our hotels, so I knew things were different, but thought I'd share some information I learned about traveling now in case you are considering traveling soon or have people coming to visit you in Hendricks County, Indiana.
I felt incredibly safe at the Indianapolis International Airport (IND). In addition to being named the No. 1 airport several years in a row, they are also one of only eight airports in the United States to receive an industry-leading designation as a healthy airport in response to the pandemic.
If you have visitors coming who decided to stay in a Hendricks County hotel, here is what I found about some of our local hotels at the end of November. However, keep in mind that this information can change quickly, so contact the hotel you are interested in for the most up-to-date information.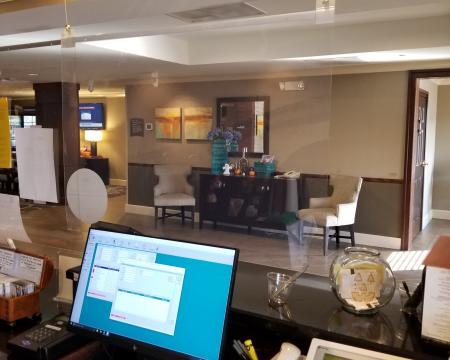 We all know that masks are required in public spaces, but here are some things you might not know. Most hotels have added plexiglass between the front desk workers and guests. In some cases, items that cannot be cleaned easily, like pens, couch decorative pillows, notepads, directories, etc., have been removed from the rooms. 
Several hotels are also offering mobile check-in and check-out. 
Below are just a few measures some of our hotels are taking and is in no way meant to be a comprehensive list of everything they are doing.
If you do decide to travel to Hendricks County, the state of Indiana, Hendricks County Health Department and Visit Hendricks County stand together in requesting that you do wear a mask wherever you go for your safety and the safety of others and social distance as much as possible.
Here's wishing you a safe and healthy holiday season however and wherever you celebrate.