As the world starts to turn in a different direction, we look forward to gathering again and creating new memories with family, friends and colleagues.  The new reality is that people may feel more comfortable going to venues that can accommodate social distancing or offer outdoor amenities.
In Hendricks County, Indiana, we are fortunate to have a variety of venues that feature both indoor and open-air elements for whatever type of event you are planning.
If you grew up in Hendricks County, you may remember picking apples at Martha's Orchard in Clayton. In its prime, Wes and Martha Davis picked and sold 80,000 bushels of apples in a single year! As the orchard business was winding down, they started holding small events at the packing house.
Over the years, their small event business grew into a 5,000-square-foot, temperature-controlled barn that also offers full-specialized lighting, dedicated fiber internet, state-of-the art sound system and new handcrafted, back-lit, white oak barn doors.
They regularly host weddings, reunions, anniversaries, birthday parties and other life celebrations. The beautiful grounds and spring orchard blooms provide a picturesque backdrop for your event, with plenty of space to move around both indoors and outdoors, and where your guests are not confined to one area.
Capacity: 220 inside the Barn
Available: April through November
Catering: Outside Vendors Allowed
Several years ago, our community embraced the idea of moving the historic Cartlidge Barn to the Hendricks County 4-H Fairgrounds in Danville.  It is a wonderful story of how a local movement helped pay for the barn to be disassembled, moved and reassembled.
The barn serves as a reminder of our county's agricultural heritage, and now also provides a popular spot for weddings and special events. I have attended several corporate fundraising events at the barn, and I also helped plan my sorority's anniversary dinner there.
The fairgrounds staff were flexible in accommodating our needs, and we found the modern conveniences such as electricity made it easy to plan the event.
The barn's rustic charm provided a unique ambiance for our dinner. We also chose to open the doors, allowing a nice cool breeze to flow through the barn all evening. A few years ago, they added an elegant canopy, so you can now expand your event outside! 
Capacity: 100 inside, 250 with pavilion 
Available:  April through October.
Catering: Outside Vendors Allowed
 
---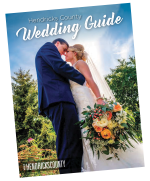 Venues - Hotels -  Photographers - Cakes  - Catering  - and more!
I had the pleasure of touring this beautiful family-owned, former residence which opened in 2019 as Hendricks County's newest event venue. I remember thinking this is the coolest place!
The scenic drive back to the house sets the stage for what you will discover at the end of the road. It is one of the most unique settings you will find anywhere for corporate meetings, retreats and social gatherings.
The 22,000-square-foot, 25-room, 100-acre estate features elaborate woodwork and beautiful secluded grounds with the ability to entertain up to 200 guests indoors and up to 500 guests outdoors. If you are planning an outdoor event, you will have the option of choosing from the Canopy Light Courtyard, Island and Pond or Open Field – all offer a different experience for your guests. 
Indoor Capacity:  200
Outdoor Capacity: 500
Available: Year-round
Catering: Outside Vendors Allowed
Did you know Avon Gardens started around 25 years ago when Karen Robbins, who has a passion for plants and gardening, dug plants out of the ground and began selling them on the weekends?
The land was previously owned by her grandparents, and even included a hog farm! Karen began cleaning it up eventually creating Avon Gardens, and even moved into her grandparents' old home on the property.
In addition to the landscape and garden business, this 5-acre outdoor paradise has hosted many weddings over the years. You will also find the display gardens and water features provide a serene setting for business after-hours and social events.
Try mixing a corporate event with the tranquility and peacefulness of nature, and I guarantee you will have an event your attendees will always remember. Be sure to allow some time for guests to also shop for unique plant varieties and discover new landscaping designs from garden experts.  
Capacity: 80 classroom style, 250 banquet style 
Available: Mid-April through October
Catering: Outside Vendors Allowed
Now more than ever, we would love to help you find that perfect venue to host your meeting, social gathering, or one of life's celebrations. Click here for more information on our wedding services or here for more information on our meeting and other group services.