Driving through Hendricks County, Indiana, you might have noticed a sign or garden flag in the front yard of a neighbor or local business. Maybe you even wondered where you can get one for yourself. While the notion of the words Just Be Kind on their own are admirable, the story behind the signs is even more heartwarming.
Some people may even call it a movement.
History of Just Be Kind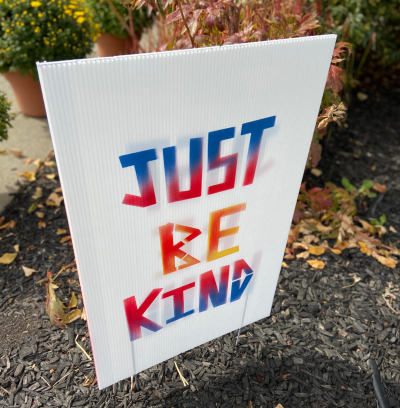 Some say that one door opens when another closes. This is certainly the case here. Just Be Kind all began because an after-school program (TNT) at Van Buren Elementary in Plainfield ended. As the school year was coming to a close in 2015, some of the kids involved with the club wanted something to do during the summer.
The group started brainstorming and the Just Be Kind Club was born. Stemming from their enjoyment of making shirts within the TNT program, the group decided to create and sell T-Shirts that read Just Be Kind.
As the words on the shirts express, the motto of the club is to remind people to be kind to one another.
Over the summer, they all worked as a team as they visited the Plainfield Chamber of Commerce, secured a booth at the Plainfield Farmers Market and began making the shirts. Not only did the kids help sell their product, they also would help other vendors and even the Market Master set up before and clean up after the event.
"By the end of the summer the kids started developing a strong sense of community," Andrea Hilton explains.
What started as a group of students has become a welcoming club with no church or school affiliation. There are currently 25-30 kids involved. 
JBK Instills Values
But the Just Be Kind Club (JBK) wanted to take it a step further and did. This club now brings kids together and gives them a voice and a chance to truly make a difference.
What I found amazing is that all decisions are made by the kids. They are encouraged to not only have opinions, but also explain the reasoning behind their decisions.
"All kids have an equal voice, no matter how long they have been participating in the club," says Hilton. 
Giving Back
JBK also provides the kids an opportunity to give back as most of the proceeds are used to help the local community. With the help of generous donations by individuals and local organizations, the club has poured about $20,000 back into the community so far. It seems that the community has also embraced the Just Be Kind mantra as these donations are never solicited.
Some of the projects JBK has been able to help fund include Head Start's Spring Field Trip, the annual fundraiser for Awesome Westside Advocates and Plainfield's School Resource Officers Program. They have also provided donations to the Food Pantry at IPS 34 and purchased coats for kids in Hendricks County. The list of those who have been helped by JBK go on and on and will certainly keep growing!
You also may have noticed more blessing boxes, used for donating food and other essential items, popping up throughout the county.  In early 2020, the Just Be Kind Club started donating and building blessing boxes for multiple communities within Hendricks County as well as some in Marion, Morgan and Jefferson counties.
Sometimes the club's goodwill efforts even spread beyond Central Indiana to help others in need of assistance. For example, in 2016 they had a water drive where they were able to fill half of a semi-truck with water and deliver it to Flint, Mich.
Kindness Spreads
You may have noticed a growing number of 'Just Be Kind' items throughout the Hendricks County community. What you might not realize is how far this 'Just Be Kind' program has grown. People love to wear their shirts when they travel and share photos they've taken of their signs on social media.
See for yourself how far it has spread. JBK posts photos shared with them on their Just Be Kind It's Easy Facebook Page. 
Orders have been coming in from all over the United States. Some have even sent T-shirts to friends in other countries like Greenland, Congo and France!
Just Be Kind Products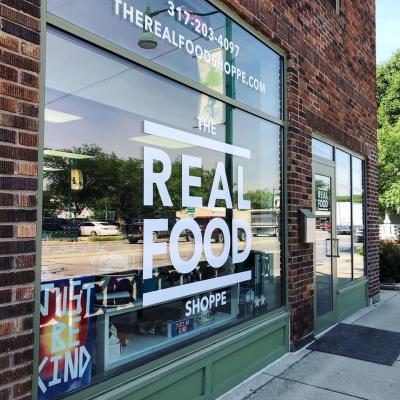 While they started with only shirts, the Just Be Kind Club has expanded its inventory, offering a variety of products including:
T-Shirts ($5-13)
Hooded Sweatshirts ($15-20)
Yard Signs ($5)
Garden Flags ($5)
Car Magnets ($5)
Canvas Signs ($5)
Christmas Ornaments ($5)
License Plates ($5)
Ways to Purchase Just Be Kind Items
If I've learned anything from writing this blog, it is that kindness is meaningful and has the power to impact many  lives.
Just as smiles are, kindness is contagious and can brighten the lives of anyone you meet. So please remember to, whenever possible, Just Be Kind.