As we all prepare to sing "Auld Lang Syne" to 2013 and welcome 2014 to the neighborhood at the stroke of midnight, I find myself reflecting on my year's worth of adventures with
Visit Hendricks County
. I can't describe it as "work" because I love my home county, and I love sharing the great things about it with everyone. I was recently perusing
all of my Visit Hendricks County blog posts
from 2013, and while every post I've written conjures up specific memories for me, some of them stand out as my favorites. I'd like to share a few of them with you.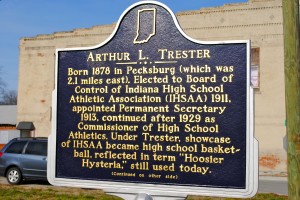 Finding Hendricks County's Historical Markers
My editor --
Josh Duke
-- and I like to torment each other. I chuckle to myself every time I submit a 15,000-word masterpiece of a blog post, and he chuckles to himself every time he takes a chainsaw to it, resulting in the 500-or-so words that you end up seeing. Then he gets me back by making me do stuff like
baking an apple pie
for an assignment. So when Josh gave me the assignment of finding Hendricks County's historical markers, I figured he was up to his usual shenanigans. I was already plotting my revenge as I stopped at the first historical marker that I've passed thousands of times without a second thought. A funny thing happened on this assignment, though:  These historical markers are really interesting! I learned a lot about Hendricks County, and it made for a fun, cheap way to spend the day. All of the markers are located near other cool stuff to do, too. What I thought was going to be a boring assignment turned out to be a two-part blog series -- 
Part I
and
Part II
-- and one of my favorite memories of the year! (Not that I'll ever admit that to Josh...)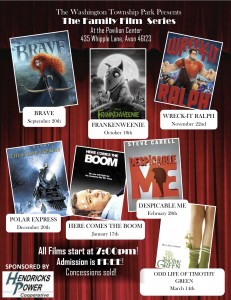 Free Family Film Series in Washington Township Park
This assignment took me to a part of Washington Township Park that I didn't know existed, into a cool building I had never been inside, to watch a free Pixar movie. And they show free family movies every month through March of 2014. Cure for the winter doldrums, anyone? 
Click here
 to read about one of my favorite discoveries.
Avon Zombie Walk
A new Halloween event in
Avon, Ind.
:  a Zombie Walk that brings a ton of visitors to Hendricks County, sets a new world record and collects food for the Hendricks County Food Pantry Coalition. I love it! Oh, and it's organized by
an 11-year-old?!
Whaaaaaaat?! Now
that blog post
is a favorite memory of 2013.
Hendricks County Historical Museum
I took my oldest daughter -- she was 6 at the time -- with me on this assignment, and to my surprise, she loved the Hendricks County Historical Museum as much as I did! In fact, she
still
talks about it! You'll be surprised -- there's a lot more cool stuff in that museum than you'd expect.
Click here
to learn more about the fantastic time we had there.
Hendricks County's Best-Kept Secrets
This assignment was a blast because I learned about all sorts of great people and attractions in Hendricks County from 
you! 
I'm not ashamed to say that I don't know everything that's going on in the county, so I rely on your eyes and ears for suggestions. You delivered in wondrous fashion last winter, resulting in this blog post about 
Hendricks County's best-kept secrets
.
(Got some more secrets? Comment below or post them to Visit Hendricks County's Facebook page! Josh will think I'm a genius when I pitch him all your great ideas!)
It's been a fun 2013 in Hendricks County! I can't wait for 2014!