I've written a lot in the past week about what Indianapolis will offer people to see and do during the 10 days leading up to Super Bowl 2012. Today, I want to share everything Hendricks County has planned for both residents and Super Bowl visitors at
Metropolis Shopping Center
, our
Super Celebration Site
in Plainfield, Ind., and other locations throughout the county.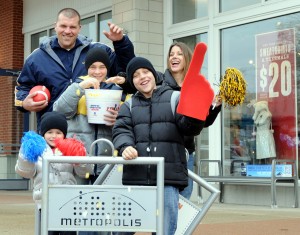 The
Hendricks County Convention and Visitors Bureau
has developed the catch phrase "Super-Sized" and a
website
geared specifically to market our Super Bowl-related offerings which begin in a little over a week. Tell your neighbors, tell your friends and most importantly share these with any Super Bowl visitors you might encounter over the next few weeks:
Eye Black Friday — 10 a.m. to 9 p.m. Jan. 27 and Feb. 3 at Metropolis Shopping Center, 2499 Futura Park Way, Plainfield — This fun event will give Metropolis shoppers an opportunity to win gift cards valued from $10-$100. Participants can either arrive at Metropolis on those days with eye black under their eyes or go to the guest services booth in the center of the mall to pick up free eye-black stickers to wear. Guests caught with eye black on while shopping at Metropolis will win a gift card instantly, no strings attached. You won't even have to take a hit from a blitzing linebacker.
Super Fanbowl — Noon to 4 p.m. Jan. 28 at Metropolis — Come dressed in the spirit wear of your favorite NFL team and participate in games and win prizes. The event, which will be held in Metropolis' new Event Center, will include an Indianapolis 500 head-to-head race simulator, food and other fun activities. The Event Center is on the second floor of the outdoor mall above Journeys with access available on the east and west sides of the building, just follow the signs.
Video Game Tournament — 6 to 9 p.m. daily Jan. 30 through Feb. 3 at Metropolis — Metropolis will have four full-size, stand-up arcade machines featuring the game, NFL Blitz, in the Event Center. The games will be free to play. The highest scorer each day wins a ticket to the NFL Experience in Indianapolis.
Super Cars Display — 10 a.m. to 9 p.m. Feb. 2-5 at Metropolis — The Super Bowl Host Committee came up with a cool concept to merge an Indianapolis icon — the Indianapolis 500 — with the Super Bowl. The result: Indy cars painted to represent each of the 32 NFL teams. An unveiling of all the Super Cars is planned during Super Bowl week Downtown. Then, the cars will be distributed to selected sites statewide, including one in Metropolis' Event Center. We don't know what team we will get, but we've decided to flank our Super Car with two other race cars that represent Hendricks County. Our venue also will showcase the NHRA NAPA Funny Car from Don Schumacher Racing and a display from John Force Racing.
Rural Routes to Main Street Cultural Trail "Super-Sized" —  11 a.m. to 5 p.m. Feb. 2-4 — This popular self-paced, self-directed driving tour has become a Hendricks County staple over the past three years. But with the Super Bowl in town we decided to super-size it. What does that mean? Well, the usual tour, which allows participants to explore 15 locations throughout the county including art studios and galleries that feature handmade Indiana artisan products and foods, will have special offerings, such as dishes, exhibits, classes and more devoted to the game of football and tailgating experiences.
So, with so much to see and do right here in Hendricks County, you might not need to go to Downtown Indianapolis. But if you do, we will offer a free shuttle service from 11 a.m. to 11 p.m. Feb. 3 and 4 from Metropolis. If you are looking for a list of additional events in Hendricks County, click
here
. If you have any further Super Bowl-related questions, visit one of our welcome centers that will be manned by official Super Bowl volunteers. We have four here in the county at Metropolis in Plainfield, the Hampton Inn in Plainfield, the Lizton rest area on I-74 and here at our office in Danville, or you can call our office at (317) 718-8750.