In the tourism industry, we focus so much on today, this weekend or next week that we often lose sight of how we got here and how far we've come, even here in Hendricks County, Indiana.
Not long ago, the iconic Mayberry Cafe in Danville was simply known as the Main Street Cafe with no hint of Barney or Aunt Bee. The landmark Oasis Diner in the heart of Plainfield sat three miles away from its current location in a nondescript area between Plainfield and Indianapolis.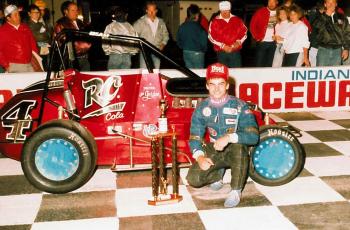 Lucas Oil Raceway in Brownsburg has gone through various name changes that some people still use to this day including IRP (Indianapolis Raceway Park) and ORP (O'Reilly Raceway Park). Legendary names like A.J. Foyt, Jeff Gordon and "Big Daddy" Don Garlits have done battle on either the oval, drag strip or both providing memories that have and will last generations.
One thing that has stayed remarkably the same, though: our industry's unique emphasis on welcoming visitors from near and far, which has helped position travel and tourism as an economic power in the lives of our local residents. Here in Hendricks County especially, major growth, the Indianapolis International Airport moving closer to our border and the addition of major events and attractions has fueled our rise as a tourist destination.
Yes, I said tourist destination, and I have the numbers to back it up.
Visitors spent $279.4 million in 2017, which is the most recent year those statistics were collected. That spending resulted in nearly $111 million in direct economic impact that supported more than 4,000 jobs. Every Hendricks County household reading this benefited to the tune of $549 in tax savings because of tourism with 60 cents of every dollar remaining in the county supporting local business.
We here at Visit Hendricks County see this impact play out every day. We adore pictures that pop up in our news feeds of visiting families having fun and making memories in our parks, at our restaurants and during our events. We notice the social media posts lauding our attractions, sharing their experiences and reveling in the sights, sounds and people they encounter.
So, as we celebrate National Travel & Tourism Week, we ask our residents to remember the impact tourism has in their own backyard and ask you to support this worthwhile industry.
We encourage our potential visitors to consider Hendricks County this spring, summer or fall for a day trip, weekend getaway or week-long excursion. You can learn more or begin planning your getaway by clicking here. And if you come, be sure to post your pictures on Facebook, Instagram and Twitter using #inHendricks.
So why would you want to choose to visit Hendricks County?
How about affordability, easy access whether it is by car using I-70 or I-74 or the airport? We have plenty of things to see and do, and remain so close to Indy that you can easily extend your stay by taking in some of their attractions. Yet, we have the added bonus of cheaper and safer hotels and unparalleled customer service.
Make sure you utilize all those vacation days this year, and we hope to see you soon.