The Hendricks County Rib-Fest and Balloon Glow is one of the year's biggest events, bringing in scores of folks from near and far. Since 2005, this much-anticipated festival held the last Saturday in June in Avon, Indiana, has evolved with additions and improvements each year. This well-organized affair is full of thrilling sights and activities, incredible flavors and plenty of after-dark excitement.
Here are some details and information about the event and why you should attend.
Food
Local food trucks and restaurants sign-up to offer their best menu and compete for the coveted "best ribs" and "best sauce" awards.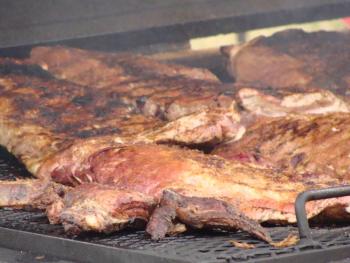 Festival attendees can purchase food tickets at the event and then peruse the many food trucks and vendors to decide from whom, what and how much they'll purchase. It's an awesome opportunity to dine on the best eats around from multiple vendors, all at once.
Check out this year's list of vendors here.
Traditionally, each member of my family approaches this a bit differently. My oldest, for example, puts all his chips on one vendor and goes big with a full meal – ribs and a couple of unique sides. His selection is mostly determined by entrée and the length of the line.
The youngest, much like myself, prefers to select a little from multiple vendors guided mostly by sauce and seasoning. The daughter shares my love of side dishes. So, together, we typically eat our way through the evening by way of mac-n-cheese and delicious salads.
Having so many options and such variety all in one place makes this event a hit as there's something for everyone.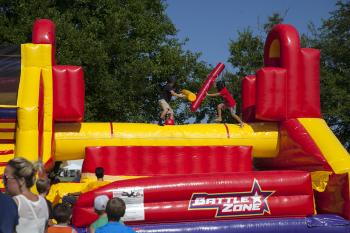 After purchasing a slew of good eats, we make our way back to the area we parked our chairs and picnic blankets and create a buffet of sorts. Which brings me to the next bit of information you might want before attending.
Location
The Town of Avon and the event planners have done a spectacular job of selecting the perfect location to host this festival at Kingsway Christian Church, 7981 E. County Road 100 North in Avon. Parking is $5 and available at the schools surrounding the festival location. It, too, is well organized and just a skip away from the event grounds.
With lots of open fields and plenty of space, this location supports the eager crowds well. There is plenty of space for families to let the littles run. Bring your chairs, blankets and your favorite people, of course. Find some territory and make yourself comfortable; it'll be an evening full of fun.
Entertainment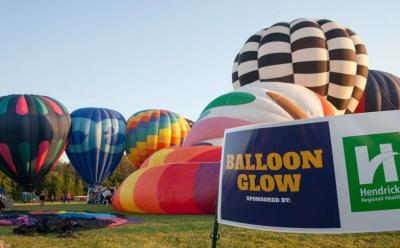 Just as you'll find something for everyone in the good eats department, the same is true for the variety of entertainment you'll find. You won't have any trouble finding the location, as you'll see a fascinating display of hot-air balloons peeking over the treetops long before you'll see the parking areas.
These gorgeous balloons and their pilots offer attendees the chance to experience the perspective from above with tethered rides. For $12, guests can take a 5-minute tethered flight to 50-80 feet. To book your flight time, click here.
As you eat and peruse the grounds, you'll also enjoy the DJ and live entertainment on stage. This year's lineup includes beloved local artist Levi Riggs, among others.
But don't worry, they haven't left the kids out. You'll find an area just for them – offering tons of activities, including various inflatables, games and plenty of space to mingle and roam.
As dusk approaches, you'll want to make your way back toward the hot-air balloons in time to see them set the night sky a glow. It's an amazing sight to see. This show is quickly followed by an equally impressive fireworks display to cap the evening off.
Rib Run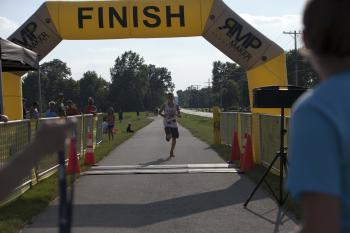 I pulled this portion of the event out separate because it deviates from the rest of the event schedule. Whereas all other activities occur from 4 p.m. until dark, the Rib Run was moved to the morning because of the heat, which proved to be a welcome change.
The run will start at 8 a.m. the same day of the festival at Kingsway Christian Church. Runners and walkers of all skill levels are encouraged to click here to register for the run.
Got some kids who like to run? Sign them up for the Quarter Slab Rib Run -- a quarter-mile run that begins and ends at the church.
Event Schedule
Take a look at this year's events schedule here.
It isn't any wonder why this event continues to grow and draw the crowds that it does. Bring your family, friends or make it a date night. This event offers delicious eats and hours of entertainment under the beautiful summer sky.