With so many visitors arriving in Hendricks County for this year's Super Bowl, I wanted to take time today to say welcome and educate you a bit about our county and about what we have to offer today and Saturday at our
Super Celebration Site
in the
Metropolis Shopping Center
. Located just 15 miles west of Indianapolis on the same side of town as the Indianapolis Motor Speedway and the Indianapolis International Airport,
Hendricks County
provides a perfect location for visitors looking for
things to do
outside Indianapolis. In fact, we have become a motor sports destination of our own with Lucas Oil Raceway situated in our county, which hosts many events during the summer on its mile-long oval and drag strip. In fact, the most prestigious race in all of drag racing, the Mac Tools NHRA U.S. Nationals, is held in Hendricks County on Labor Day weekend each year. We also are home to many team headquarters including John Force Racing.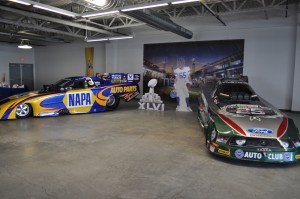 Over the next couple of days at our Super Celebration Site at Metropolis in Plainfield, we will have some fun events including:
Eye Black Friday
in which visitors can win gift cards just by shopping with eye black under their eyes; a
Video Game Tournament
featuring NFL Blitz with the highest scorer each day winning a ticket to the
NFL Experience
; and a
Super Cars Display
featuring a Baltimore Ravens Indy Car and two NHRA Funny Cars. We really have tried to bring a bit of the Downtown experience out here. For more information on these and all of our other fun Super-Sized events, visit our
website
. But that's not all. We have a free shuttle service to Downtown from 11 a.m. to 10 p.m. today and Saturday. This service does have limited seating and will be offered on a first-come, first-serve basis, but it should ease the hassle of getting into Indianapolis as our deluxe motor coaches will go directly from Metropolis to the center of Downtown. I personally will volunteer on one of the buses Friday, so come by and say hello. If you have to wait for a shuttle, the good news is Metropolis has plenty to do. In addition to the aforementioned activities, there is plenty of good shopping. Metropolis also has some nice dining options that are much more affordable than Downtown with much less wait times. Those restaurants include:
Claddagh Irish Pub — One of 15 locations in eight states, this eatery has everything you would expect from a traditional Irish pub. In addition to traditional pub favorites, Claddagh's lunch selections include shepherd's pie and fish and chips and the dinner offerings add corned beef and cabbage and of course bangers. They also have 16 beers on tap and plenty of wines and signature drinks.
Hot Box Pizza — A college favorite, Hot Box has expanded to nine locations including eight in Indiana. Their build-your-own pizzas and breadsticks are fantastic and their fun atmosphere and promotional materials include cups that tell you when you are good to go and half empty.
Stone Creek Dining Company — This unique dining experience rivals any of the fine dining establishments Downtown. Lunch options include salads, wraps, pastas and burgers with the dinner menu expanding to include steaks, ribs, seafood and more.
Other options at the mall include Cold Stone Creamery, Panera Bread and Subway, but there are also plenty of other mouth-watering dining options in Hendricks County. Click
here
for a complete list. To all our Super Bowl visitors, I again offer a hearty welcome from those of us in Hoosier land. We have so much to
see and do
right here in Hendricks County year round that we hope you visit again soon.