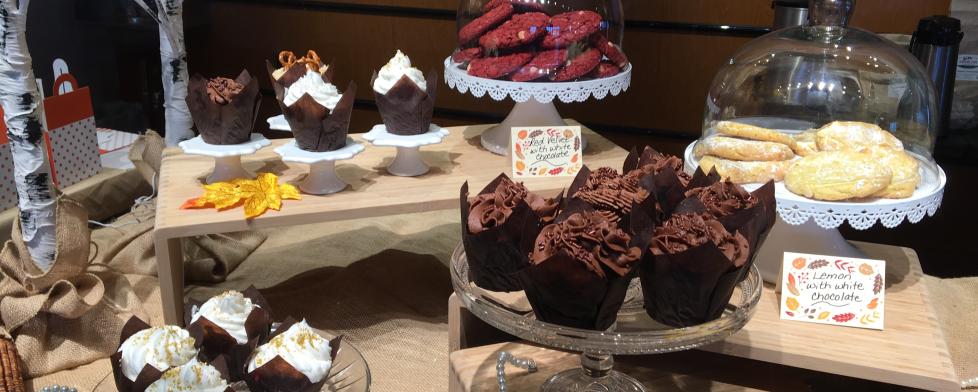 The NCAA men's basketball tournament is down to the Sweet Sixteen! How is your bracket looking? (Mine is absolutely destroyed. Thanks, Duke and Louisville.)
As I drowned my basketball sorrows in a bowl of ice cream, an idea struck me -- a Sweets Sixteen right here in Hendricks County! Where are sixteen places in Hendricks County to satisfy a sweet tooth? (See what I did there? I'm clever like that.)
We asked followers of our Facebook page for suggestions on where to get a sweet treat, and based on those responses -- and a couple of suggestions of my own -- behold the Hendricks County Sweets Sixteen.
Baked Sweets
Basically Buttercream and Cafe
Basically Buttercream in Brownsburg specializes in cakes, including birthday and wedding cakes. There is also a cafe inside for those looking for a bite to eat. My fellow blogger Kelly Wallace has much more to say about Basically Buttercream, so click here to read her blog post.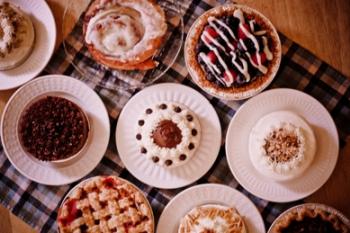 Bread Basket Cafe and Bakery
It came as absolutely no surprise to me that Bread Basket Cafe and Bakery in Danville was one of the most popular suggestions to our Facebook question. This beloved family-owned establishment is renowned for their mouth-watering pastries and desserts, their delicious breakfast and lunch items, and even their hot drinks. One of our Facebook followers specifically mentioned the French silk pie as her favorite.
Grandma's Oven
Located in The Shops at Perry Crossing in Plainfield, Grandma's Oven is a relative newcomer to the sweets arena, but shop owner Robin Teasley is already making her mark as a Hendricks County favorite. Homemade breads, brownies, cupcakes, cookies and more made for an excellent experience for blogger Kelly Wallace.
Mayberry Cafe
The Mayberry Cafe is arguably the best-known restaurant in Danville, and for good reason. In addition to their Andy Griffith Show theme, they serve up wonderful home cooking, including melt-in-your-mouth desserts. One of our Facebook followers is particularly fond of their coconut cream pie.
(Insider tip: One of my personal favorites for baked sweets is The Beehive in Danville, where you'll find handmade bars, muffins and cookies with local honey used as a primary sweetener. Click here for five more reasons why you should swarm to The Beehive.)
Donuts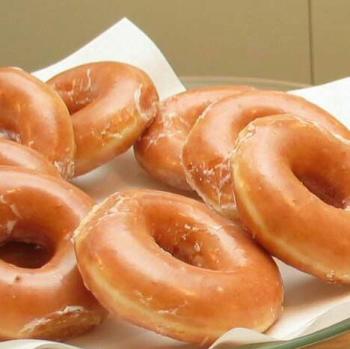 Al's Donuts
Since 1960, Al's Donuts in Plainfield has been serving up some of the best breakfast sweets in Hendricks County. They open at 2:30 a.m. and remain open until 9:30 a.m. or until they sell out. Often, the latter occurs before the former, so get there early. Get there super early if you want one of their yeast donuts, because they sell out especially quickly. One of our Facebook followers highly recommends the Oreo donut, too. Al's Donuts accepts cash only.
Hilligoss Bakery
Established in 1974, Hilligoss Bakery in Brownsburg has been a favorite for donuts for over 40 years. They're a full-service bakery, so they offer plenty of other baked sweet treats, too, but most Hendricks County residents know Hilligoss for their donuts. Hilligoss accepts cash and checks only.
Red's Donuts
Just an infant compared to Al's and Hilligoss, Red's Donuts opened on the historic Hendricks County Courthouse Square in Danville in 2016, but they're already a Hendricks County favorite. It's a Sunday morning tradition in our house to get a box of Red's, and our favorites are the blueberry donuts and the pineapple fritters. My fellow blogger Crystal Paschal has more to say about Red's Donuts in her blog post. Red's Donuts accepts major credit cards.
Frozen Sweets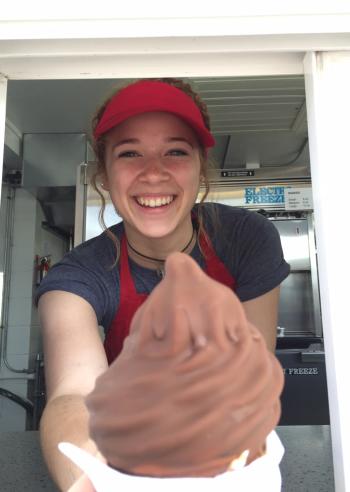 Lizton Dairy Bar
The Dairy Bar in Lizton is a Hendricks County staple, and it's a fellow blogger's favorite ice cream shop in Hendricks County for their delicious treats and their friendly service. Click here to read why Beth Fife is such a fan of this hidden gem.
Danny's Mexican Ice Cream
Several suggestions were made on Facebook for Danny's Mexican Ice Cream in Avon, where the ice cream is homemade with real natural ingredients. Traditional flavors are accompanied by uniquely Latin American flavors like Queso, Tamarindo, Tequila and more.
The Frigid Frog and More
The most-suggested establishment in response to our Facebook post? The Frigid Frog and More in Plainfield. Fans of the Frigid Frog recommend the banana-flavored shaved ice stuffed with ice cream, the piña colada shaved ice topped with cream, and the gourmet popcorn. To learn more, check out what my fellow blogger, Stephanie Porter, wrote about them last summer.
Frost Bite
Another longtime favorite in Hendricks County is Frost Bite in Avon. At Frost Bite, you can have soft serve, scooped ice cream, or frozen yogurt to satisfy your sweet tooth. Savor a frozen treat in one of their chocolate-lined waffle cones and enjoy their outdoor seating.
Wyliepalooza
I was just at Wyliepalooza Ice Cream Emporium in Brownsburg the other day, enjoying a scoop of This $&@! Just Got Serious ice cream (yes, that's an actual flavor) while my dairy-intolerant daughter devoured one of several Italian Ice flavors (she chose Carrot Mango and loved it). She could have also chosen from quite a few varieties of dairy-free soy and sherbet, which is a huge deal for her to have so much to pick from. Excellent ice cream and funny flavor titles.
Yogurt in Love
Another very popular suggestion to our Facebook question was Yogurt in Love in Plainfield. Frozen yogurt aficionados flock to Yogurt in Love for their sundaes topped with fresh fruit or candy, their premium H2Joe coffee and their smoothies.
(Insider tip: The Ice Barn in Brownsburg is nearing the opening of their season, adding another great option for some shaved ice.)
More Sweets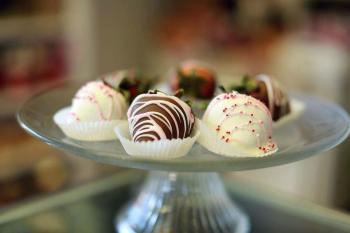 Confection Delights
On the east side of the historic Hendricks County Courthouse Square in Danville lies Confection Delights, known for their ridiculously decadent chocolates. They also make custom cakes and other baked sweets like cookies and brownies, but it's owner Pamela Powell-Warden's confectionery skills that make this place out of this world. If you can dream it, Pamela can make it, so bring her your custom orders and be sure to stop by her store for all sorts of unique, inexpensive and delicious gifts. (Insider tip: Looking for a teacher gift at the end of the school year? Pamela's got you covered.)
Oasis Diner
The Oasis Diner in Plainfield is a blast from the past -- the 1950s, to be precise. The combination of fantastic food and nostalgia makes The Oasis a very popular destination in Hendricks County. Their on-site bakery produces fresh bread and desserts daily, which are all excellent, but what sets them apart is their hand-crafted sodas, their floats and their malts that are naturally sweetened without using high fructose corn syrup. I particularly recommend the butterscotch root beer and the cherry vanilla cream soda.
Rocket Fizz
If you're hankering a hard-to-find candy bar from your youth or from another part of the country, or if you're up for trying a crazy gourmet soda flavor, then Rocket Fizz in The Shops at Perry Crossing in Plainfield is a must-visit. There are more sweets in this store than I could possibly describe in a couple of sentences, so make sure you check them out the next time your sweet tooth strikes.
Who did I overlook? Where is your favorite place to satisfy your sweet tooth? Comment below and let us know!