In recent years, kids' consignment sales have gained popularity as parents look for ways to save money. A great consignment sale here in Hendricks County that continues to gain momentum is the
Here We Grow Again
sale at the
Hendricks County 4-H Fairgrounds & Conference Complex
in Danville, Indiana.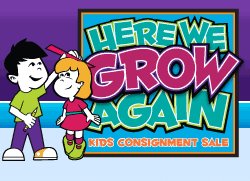 The sale on May 16-18 will be the third sale here in Hendricks County. Katie Awwad and Kori McCallie started this sale in 2012 after they realized they shared a common bond of saving money on kids clothing and toys and there was not a consignment in Hendricks County. So they started a local Here We Grow Again franchise.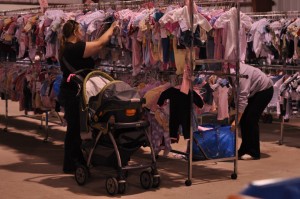 Shoppers will be able to look through more than 25,000 items that include infant, toddler, kids, junior and maternity clothing as well as baby equipment. This sale will offer just spring/summer clothing. They will have another sale in the fall for fall/winter clothing. This sale also benefits charity. After the sale, consignors have the option of donating their items that did not sale to Jordan's Place, a local non-profit organization that provides resources for foster families.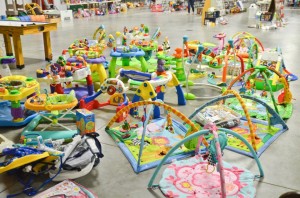 Katie shared a few tips with me on how to make the most of your shopping experience.
Tips for Shoppers
Bring a list. The best way to stay on a budget is to make a list of what your child needs. With more than 25,000 items, the sale can be overwhelming.
Shop early for the best bargains. If you can get your hands on a presale pass for Wednesday, May 15, you will get to look through the inventory before the general public. How do you get a pre-sale pass? We will give away passes to three lucky readers of this blog. Pre-sale passes also will be given to teachers, military families, volunteers and consignors.
Shop Half Priced Day – From 9 a.m.-2 p.m., May 18, most items will be sold at 50% off. Just look for the asterisk on the tag.
Want to Consign?
There's still time to become a consignor.  You can get supplies and ask any questions you have at their tagging party from 6:30-7:30 p.m., April 25  at the Panera Bread in Avon. I went to a tagging party a couple of weeks ago and got my supplies. Katie and Kori were very helpful in preparing me to become a consignor. You can find more details on consigning on their
website
.
Volunteers Needed
If you would like to volunteer, you can receive $10 in "Grow Bucks" for each three-hour shift you work. You also get to attend the pre-sale.
Giveaway!
We have three passes that we will award to three readers who comment in the section below. To enter the drawing, tell us what you hope to find at the sale or if you have found a great bargain at a previous sale.  You have until 10 a.m., May 6 to enter, and the winners will be notified by e-mail.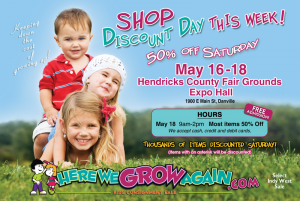 Here We Grow Again
Hendricks County 4-H Fairgrounds - Expo Hall1900 E. Main St.Danville, Indiana 9 a.m.-8 p.m., May 16-179 a.m.-2 p.m., May 18