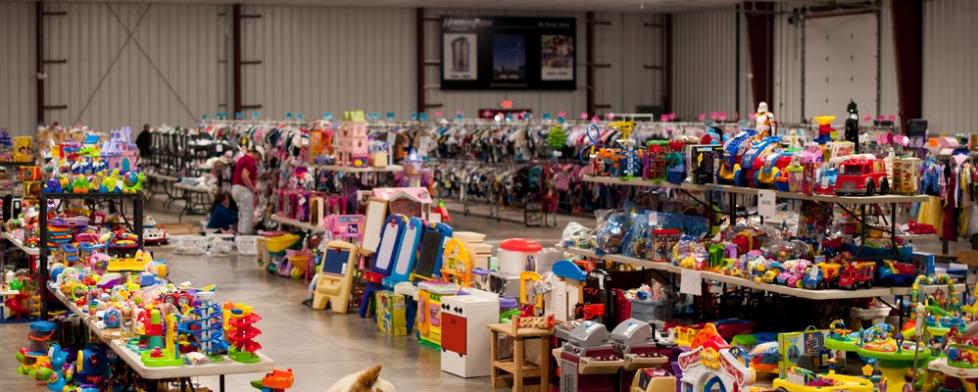 If you've got kids, Hendricks County is the place to be from March 18-21 for the Here We Grow Again Consignment Sale at the Hendricks County 4-H Fairgrounds and Conference Complex in Danville.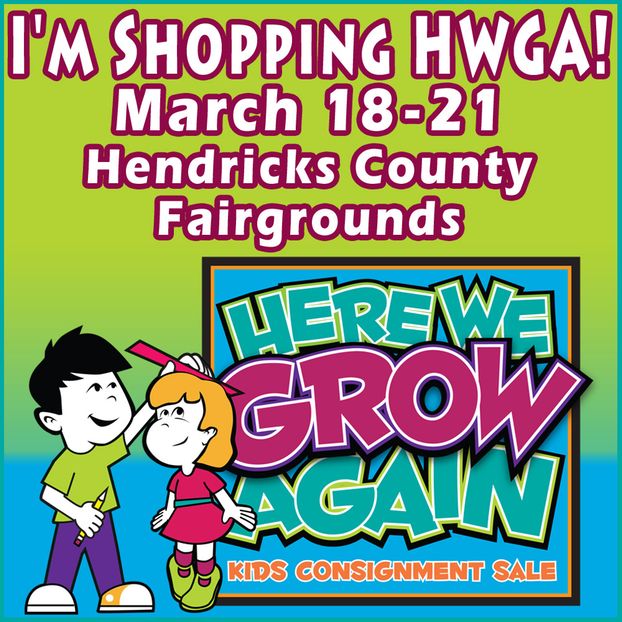 Have you heard about Here We Grow Again? 
In a nutshell, it's the area's largest consignment sale of gently-used children's clothing, toys, furniture, maternity items, decor, sports and play equipment and much more. Co-founder Katie Awwad reports that there will be more than 75,000 items for sale at this month's event. 75,000 items! Wow!
The Here We Grow Again Consignment Sale begins on March 18 at 9 a.m., and it runs all day until 8 p.m. Then again from 9 a.m. to 8 p.m. on March 19.
On March 20, the sale is open from 9 a.m. to 8 p.m., and most items are 25 percent off.
Then on March 21, the doors are open from 9 a.m. to 4 p.m., and most remaining merchandise is 50 percent off. 
Admission is free all four days. 
What if I told you that there's a way to get your hands on those 75,000 items for sale before the doors open to the public? More on how you can enter to win four pre-sale passes to Here We Grow Again from Visit Hendricks County in just a bit.
There is a special event taking place at the consignment sale from 4 to 8 p.m., March 19. Vendors specializing in summer sports, events and camps will be at Here We Grow Again to discuss their programs and to sign kids up for summer activities. Admission to this event within the sale is also free.
With so many items available for purchase, Katie advises shoppers to come to the sale prepared with a list of what they're looking for. Give yourself plenty of time to shop, and if you're bringing the kiddos with you, make sure they have plenty of snacks and things to do to occupy their time while you look around.
Be sure to return to the sale during the last two days, too, for deep discounts on items.
Are you a teacher or a member of the military? Bring your ID with you, and you can shop the bargains before the public! You can come to the Fairgrounds on March 17 -- the day before the sale opens -- and shop from 6 to 8 p.m.! And then on March 20, you can shop the 50-percent-off items from 6 to 8 p.m. before they are opened to the public on Saturday.
Presale Passes 
If you'd like to get in on the presale action on the day before the sale opens to the public, Visit Hendricks County has four presale passes to give away. All you have to do to enter is comment below on what items are tops on your shopping list for this Here We Grow Again event by noon, March 12. Winners will be notified by e-mail later that day.
So make sure you comment below to get yourself entered in the Visit Hendricks County presale pass giveaway, and then get ready to shop 'til you drop at the Here We Grow Again Consignment Sale!
Here We Grow Again Consignment Sale
March 18-21.
Hendricks County 4-H Fairgrounds and Conference Complex, 1900 E. Main Street, Danville.
9 a.m. to 8 p.m. on March 18-20.
9 a.m. to 4 p.m. on March 21.
HWGA Summer Sports, Camp and Event Night 4 to 8 p.m. March 19.
Admission is free.
Cash, credit and debit cards accepted.
Most items 25 percent off on March 20
Most items 50 percent off on March 21
Consignment Sale event on Facebook (a great place to find even more presale pass giveaways and up-to-date information about this sale!)
Summer Sports, Camp and Event Night on Facebook (see who all the vendors will be!)