Tucked away in the northwest corner of Hendricks County is a hidden treasure that shoppers will definitely want to explore -- Garden Gate Gift & Flower Shop in North Salem. If you're interested in handcrafted jewelry, collectibles, vintage items, new and gently used clothing, accessories and much more, make a point of visiting North Salem to see what Garden Gate has to offer.
I have known of Garden Gate Gift & Flower Shop for quite awhile since I spend a lot of time in North Salem, and Garden Gate is right around the corner from my favorite restaurant, Perillo's Pizzeria. But I had never been inside Garden Gate until I stopped in a few weeks ago.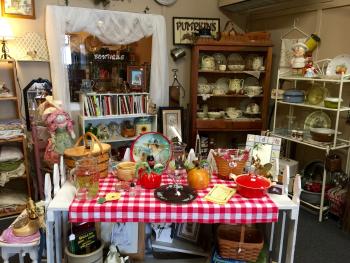 I expected to walk into a full-service flower shop with a couple of trinkets in it. I got the flower shop part right. I swung and missed badly on the "couple of trinkets" part, though.
Garden Gate Gift & Flower Shop, which you'll find at 107 W. Pearl Street in North Salem, is inside one of the historic downtown buildings that fascinate me. There's just something about North Salem that triggers my imagination about what used to be in those buildings and what life was like "back in the day."
You enter Garden Gate's front door, and you're immediately greeted by shop owner Terri Solomon (pictured at the top of this post), who has been a floral designer for more than 30 years. She and her aunt, Vicki Cox, are business partners, and the two have owned and operated Garden Gate since 2009.
Terri showed me a project that she was working on -- a custom Father's Day floral arrangement that included a tractor in it -- as well as photos of some of her completed projects. She prides herself on her custom arrangements, and she comes up with some amazing stuff for all occasions.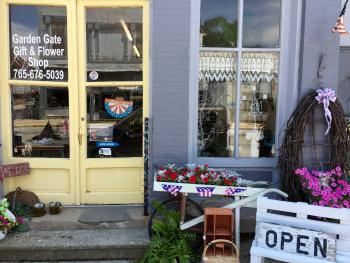 It wasn't until Terri started showing me around the whole place that I realized just how big and magnificent Garden Gate is. Every corner we turned, opened up into another big room full of cool items for sale. Turn another corner, another big room. I love these historic buildings!
Terri showed me where she has vintage items of all kinds for sale (she corrected me when I used the term "antiques") -- dishes, furniture, home decor, all sorts of knick-knacks, even a vintage Marie Osmond doll still in the packaging. On the walls among the vintage items are also paintings and other artwork by local artists.
Then she showed me a boutique section of her store where shoppers can find new and gently used clothing and accessories. Turn another corner, and there is even more clothing and accessories on display.
Terri took me across to the other side of the store, which opens up into the Classy Pearl Boutique. Inside the Classy Pearl, there is more women's clothing and accessories, candles, furniture and an assortment of Vicki Cox's handcrafted jewelry. The bracelets that I looked at on display were beautiful with high-quality craftsmanship. Terri informed me that her aunt also does custom orders if there is a piece of jewelry that I'd like her to make especially for my wife.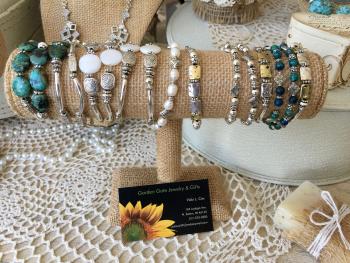 Just like inside Garden Gate, every corner leads to more treasures inside of the Classy Pearl Boutique. It's really something that you have to see for yourself to fully appreciate.
Whether you're planning a trip to North Salem for Old Fashion Days over Labor Day weekend, you're coming to town for a meal at Perillo's, you're in the market for a full-service florist or you're on the hunt for some unique items for yourself or a loved one, you'll want to make a point of stopping in at Garden Gate Gift & Flower Shop to see what they have to offer.
Terri and Vicki will take care of you.
Garden Gate Gift & Flower Shop
(765) 676-5039
Major credit cards accepted