Hendricks County, Indiana
, has a long, rich agricultural history, and from May 31 through June 2, the
Hendricks County Antique Tractor & Machinery Association
 (HCATMA) is bringing a part of that history back to life during the
2013 Spring Gas Up event
 just west of
Stilesville
.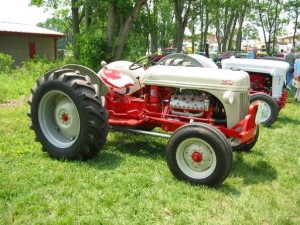 If you've been to any of the
First Friday Cruise-Ins
in
Downtown Danville, Indiana
, over the past couple of years, you've probably seen some antique tractors on display along with the cool cars and trucks. When I checked out the
HCATMA's website
to see when else I might get to see those tractors, I noticed the Spring Gas Up event this weekend. This looks like a really neat and inexpensive family outing, so I wanted to learn more and called the club's vice president, Jerry Kittle. The Spring Gas Up is held at
Chandler's Farm
, right off U.S. 40 at 3105 S. County Road 825 East in Fillmore, Indiana. It starts on Friday, May 31 and lasts all weekend, featuring a wide variety of family-friendly events including:
Tons of restored and unrestored tractors and equipment on display.
Antique cars and trucks.
A 20-mile tractor ride through Hendricks County.
Field demonstrations.
Tractor games.
An antique tractor pull if it doesn't rain.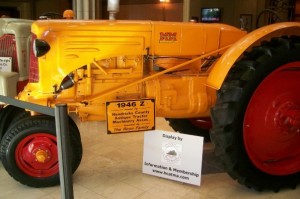 More than 20 vendors will be there, primitive camping is available and they'll have all kinds of food. The Spring Gas Up also coincides with the
Historic National Road Yard Sale
 along U.S. 40, and the nearby flea market will be open. So, there will be a bonanza of stuff to see and do -- especially if you're into antiques and collectibles -- and it's all free to the public. But what about my kids, Jerry? Will they be bored stiff? Heck no, Jerry told me. There will be games, activities and even a lawn mower drive for the kids. Plus, kids always love watching the tractors drive around. This is a great way for young people to come out and learn about the history behind these machines and to learn about the club's efforts to preserve the community, such as what they're doing with the
Cartlidge Barn
. Can I drive some of the tractors around, Jerry?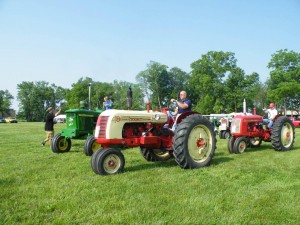 There were a few seconds of silence on the other end of our phone call after I asked him that question. Finally, Jerry diplomatically said that these tractors are owned by local individuals, not the club itself, and that many of the owners have put a lot of time, money and effort into these pieces of history. If I was to jump on one and try to fire it up ... well ... Jerry can't guarantee my safety. Mental note: Look at, but don't touch, the tractors without the owner's explicit consent. I think the Spring Gas Up sounds like a lot of fun, and I'm taking my family and my camera out to Chandler's Farm this weekend to check it out. Come on out and join me!