I love, love, love this time of year! Being a mom only heightens Christmas time for me as I see my girls experience all the magic and joy of Christmas. However, I often find myself in a dilemma when wanting to provide these awesome memorable experiences for my girls without breaking the bank...or spending money at all. I often have to remind myself that the simplest things in life are the best! So from a girl who spent her childhood in
Hendricks County
, here are a few insider tips on how to make this season one the kids will never forget for $5 or less.
May Your Days be Merry and Bright 
-- My husband is a scrooge about Christmas lights. He would tell anyone that it is a waste of money. But strap my daughter in the car and drive around town to show her the lights, and you have made her day. Several locations around the county have beautiful light displays that you can visit for free holiday family fun experiences. Hummel Park in Plainfield has a great display throughout the park that is totally free to view. Ellis Park in Danville offers
Winterland
for $8 a carload but discount tickets can be purchased
online
. Beginning this weekend, Brownsburg Town Hall will turn on its light display synchronized to music that you can tune in on your car radio. So, get the kiddos in their comfiest pajamas, pop some popcorn and take some hot cocoa and hit the streets to find the best Christmas lights in town. You are sure to have them talking about this memory for days! Interested in seeing a bunch of lights at once? Head to Brownsburg this Saturday for Christmas Under the Stars.This awesome parade boasts several floats all decked out with lights. The parade can be viewed  anywhere along U.S. 136 between Eastern Avenue and Ind. 267.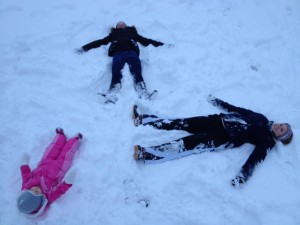 Let it Snow, Let it Snow, Let it Snow --
Ahh snow....again something as an adult that I truly despise but oh how fun it is as a kid! With our first snow of the season due anytime, the kids will be pumped to go out and play. Mom, dad, grandpa, grandma get your coat and boots on and go out and make some memories with the kids! Hendricks County is home to some awesome sledding hills! One of my all time favorites is the big hill at Washington Township Park in Avon. Hummel Park & Ellis Park also have some great hills if you are up to the challenge! (Remember to obey park rules and not go after dark.)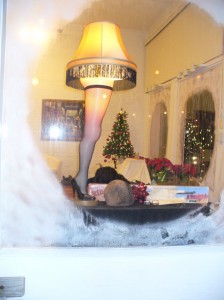 Have a Holly Jolly Christmas --
Not everything has to be glitzy and electronic...right? Plan a fun holiday-themed photo scavenger hunt. Me and my sister did this a few years ago on the historic Hendricks County Courthouse Square and had a great time. We had a list of items to get a picture of and each photo had a point value. It is a Christmas memory I will never forget, and I have the photos to remind me!
A Few of My Favorite Things --
  I've covered a few creative ideas to make this season memorable but Hendricks County is also home to several awesome free events for the whole family to enjoy. A couple of my favorite ones are below but this is just a small sampling. As always check out our
Events Calendar
for several fun events this holiday season!
A Hometown Holiday at Hummel Park
 -- Join in the fun of an old-fashioned Christmas during this annual event at the Guilford Township Community Center, 1500 S. Center St., Plainfield. Sponsored by Guilford Township, this is an exciting event for children of all ages. Featuring prize giveaways, free cookies and cocoa,
photos
with Santa, coloring and crafts for the kids, horse and donkey rides, train rides and more, everyone will leave with an experience they won't forget. This is a great way to kick off the holiday season, or to just get out of the house for some fun. Be sure to dress for the weather as events are both inside and outside.
Live Nativity -
- Danville United Methodist Church will be host its annual live nativity from 6-9 p.m., Dec. 15  This has been a tradition of my family for years. The whole family will enjoy driving through this nativity and seeing the story of Christmas unfold with live animals and characters. I hope I have given you a few ideas to make this season merry and bright!