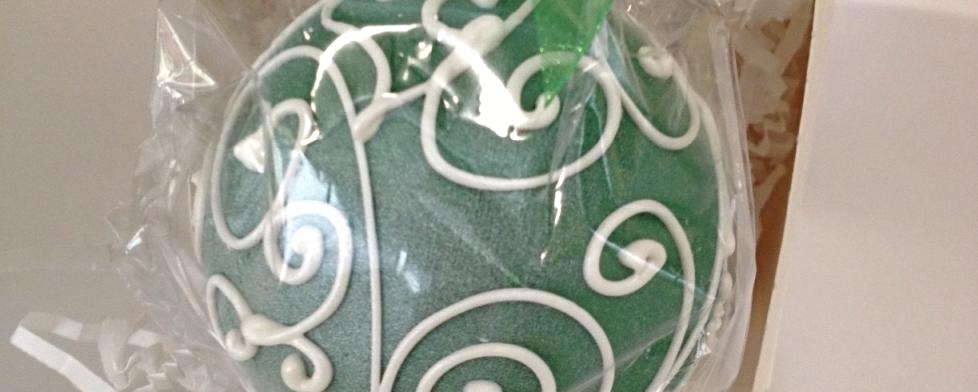 The Visit Hendricks County staff have scoured Hendricks County looking for one-of-a-kind finds you can only get here. In many cases, that means these gifts are handmade by local artists or simply are items you will only find in Hendricks County.
This installment focuses on gift ideas for foodies and will have your mouth watering. But even if the particular item we feature may not be exactly what you're looking for, we suggest visiting each of these small businesses as they just might have another gift idea that better fits your needs
You can find our complete One-of-a-Kind Finds Holiday Gift Guide by clicking here.
The 12 Truffles of Christmas
Playing off the 12 Days of Christmas theme, Peacetree Mountain Truffles, a Bloomington-based company that sells its products at The Olive Leaf at Plainfield's The Shops at Perry Crossing, has cleverly packaged twelve of its truffle varieties into a holiday-themed gift box.
For example, on the first day for the Partridge in a Pear Tree, they showcase their milk chocolate pear truffle, for two turtle doves, their turtle truffles and so on. The box retails for $19.80. These locally-made truffles are delicious, and what better way to try them then to have a themed sampler box?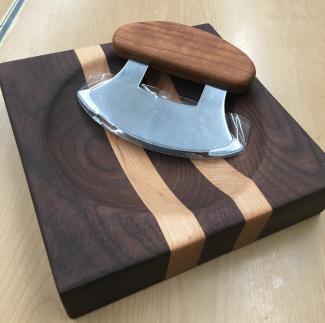 Ulu Cutting Board
We found a local artisan's handcrafted version of the traditional Alaskan ulu knife and cutting board at Gallery on the Square in Danville. The all-natural wood cutting boards not only are beautiful, but with a flat surface on one side and an indentation on the other for the ulu knife, these cutting boards are a two-in-one dream. 
For those not familiar, ulu knives were first crafted by Eskimos in the Alaskan region to skin and clean fish. Today, people have found their ergonomic design is perfect for cutting other foods like vegetables and meats. This beautiful, locally-crafted set sells for $60.
Blood Orange Brownie Kit
While this may sound like more of a Halloween gift, we found this kit at the Olive Leaf in Plainfield and loved it. We figured that foodie in your life has probably seen and eaten just about everything, so we thought this might make for a different surprise.
For only $9.99, you just need to add water and bake to have some unique sweet treats.
Spud Mitten
We discovered two different versions of spud mittens at surprising locations, Carole's Boutique in Pittsboro and Gallery on the Square in Danville. Our staff had never seen these hand-sewn mittens that are designed to perfectly bake a potato keeping it moist throughout the process.
Instructions come with each mitten, which are priced reasonably at both locations -- $7 at Carole's Boutique and $10 at Gallery on the Square.
Chocolate Ornaments
What's better than chocolate? How about chocolate art?
Confection Delights, 57 S. Washington St., Danville, has an amazing selection of what we like to call edible art that changes each season. During the holidays, the shop will feature hollow chocolate ornaments for $15.
But Confection Delights has so many options, including their famous high-heel shoes made entirely of chocolate, that we recommend visiting the store because you might find something we didn't feature here for multiple people on your holiday shopping list.
Cherry Republic Products
The last place you would expect to find edible cherry products might just be a feed store, but that hasn't stopped Big Tuck's Feed & More in Pittsboro, who began offering the well-known, Michigan-based Cherry Republic products this year. And Big Tuck has quite the selection.
Cherry pepper jelly, cherry almond butter, cherry BBQ sauce, various cherry candies, cherry salsa, cherry poppyseed vinaigrette and more. Depending on the product, prices range from $6-$10.
Honey Farm Experience
I personally experienced this tour at Hunter's Honey Farm in Martinsville and loved it. One of the stops on the Rural Routes to Main Street Cultural Trail, this family-owned business offers a tour that is both interesting and educational.
You can tour their warehouse where they store and process the honey. You can experience a staff member inside a see-through, netted tent interacting with the hive and the bees, showing you the different stages of the process and if you're lucky you may get to see the queen.
Fill your own personalized bottle of honey and peruse their small shop filled with every kind of honey-related item you can imagine from honey barbecue sauce to honey lip balm and so much more.
Tours range from under $5 to $22 per person depending on the content of the tour, take home items and number of people involved.
Caramel Turtles
These made-from-scratch caramels with fresh pecans are topped with your choice of either dark or milk Belgium chocolate at Completely Nuts and Candy Company in Greencastle, which is one of the newest locations on the Rural Routes to Main Street Cultural Trail after Putnam County was added recently. 
These candies are made on site and actually look like real turtles. You can buy a box of six for $12.95 or a dozen for $24.95.