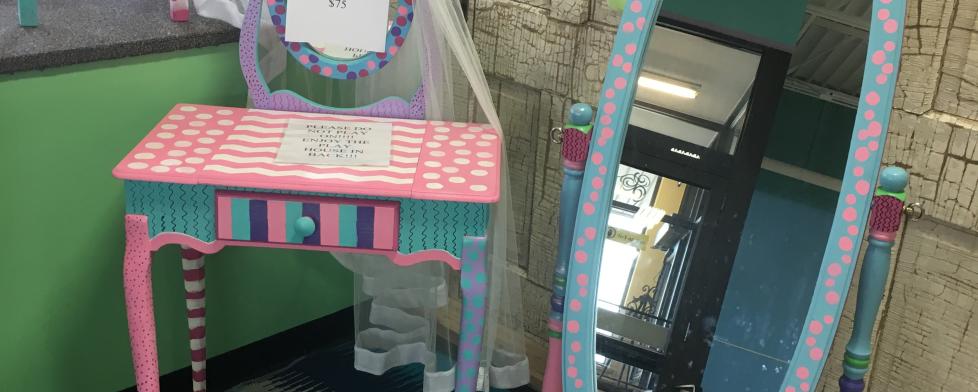 The Visit Hendricks County staff have searched Hendricks County looking for one-of-a-kind finds. In many cases, that means these gifts are handmade by local artists or simply are items you will only find in Hendricks County.
This installment focuses on gift ideas for kids and teens. But even if the particular item we feature may not be exactly what you're looking for, we suggest visiting each of these small businesses as they just might have that gift idea you thought you would never find for both family and friends.
You can find our complete One-of-a-Kind Finds Holiday Gift Guide by clicking here.
Leather Cuffs
Seize the Night Designs, 51 W. Marion St. on the Hendricks County Courthouse Square in Danville, is one of those places you just need to walk in and see for yourself as the creativity and gift ideas are just endless. I always find myself seeing something and thinking of some loved one anytime I'm in there because their items seem so personal.
For the teens, we found all kinds of amazing jewelry, but will specifically focus on their leather cuff bracelets for guys or girls. Each can be customized by putting hand-stamped sayings, names or anything else you can think of on them.
At $18, the price is reasonable, too.
Sky Zone Experience
What better gift for a kid than a trampoline experience complete with basketball rims to dunk on, dodgeball pits to compete in and many other areas for indoor, 3D play experience.
Sky Zone Indoor Trampoline Park, 851 S. Columbia Road, Plainfield, offers various prices based off the amount of time you pay to jump. Prices start at $9 for 30 minutes to $20 for 120 minutes.
The staff suggests purchasing tickets in advance if you want a guaranteed jump time. Sky Zone caps its capacity to keep the jumping safe and fun for all.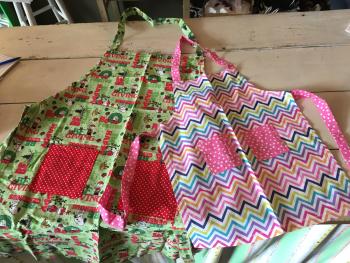 Handmade Children's Aprons
Do you know a little girl or boy who loves to cook with mom or dad? Well, they can look the part with these precious handsewn aprons we found at The Watermelon Patch on the historic Hendricks County Courthouse Square in Danville. 
They come in a variety of styles, colors, patterns and sizes. You might even be able to find a matching set for an adult and child as they range in size from 2T to adult sizes and cost anywhere from $12.95 to $16.95.
Into the Woods Coloring Book
Designed by local artist Lynne Medsker, this book is part of a growing trend in which coloring books aren't viewed as just for little kids anymore, but are popular for any member of the family. This year's Into the Woods books even provide a hidden twist as artfully concealed images can be discovered within the vibrant patterns.
The coloring books can be found at Artistic Designs Gallery in Brownsburg and sell for $5.99 each.
Hand-Painted Children's Furniture
I don't think I'm overstating it when I say our staff was floored by the whimsical children's furniture we found scattered throughout Kids Go Round in Plainfield during our holiday scavenger hunt. It turns out the store's owner, Tanya Stirling, actually reinvents this old furniture in her spare time by adding fun, vibrant colors that any young girl would love.
We found chairs, vanities and mirrors ranging in price from $75-$200.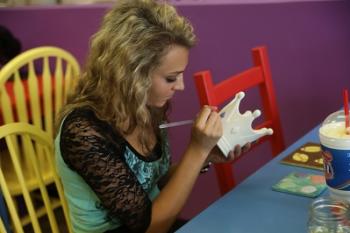 Painting Experience
We found three places in Hendricks County where you can purchase an experience for that child or teen on your holiday shopping list. We might even argue that by creating and making memories, an experience is the best gift you can give.
So with that in mind, we would suggest visiting uPaint Pottery Studio in Plainfield and the new Bisque Barn Pottery Paint Studio and Sparkling Canvas both in Avon and pick out the experience that best fits that person on your list. All three offer a fun, creative experience, and you even get to leave the mess there for them to clean up. Prices vary based on the location and what medium and item the participant chooses.
At uPaint and the Bisque Barn, the gift recipient could walk in anytime during business hours and begin working on their creation. However, at the Sparkling Canvas, they would need to join a scheduled class such as the wonderful candies and canvas class they offer for children.
Matching Children/Dolls Tutus
We again discovered an adorable, handmade item in an unlikely place while having lunch at the new Grandma's Oven Bakery in Plainfield's The Shops at Perry Crossing. These adorable matching tutus for a little girl and her doll can be found for sell within the dining area of the cafe and bakery.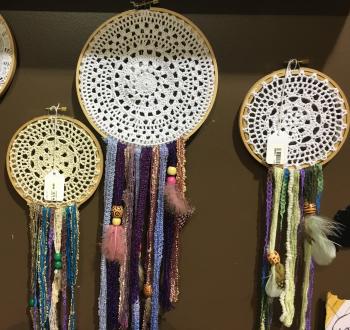 Made locally, we found these to be creative and cute. The set sells for $25. The doll-only tutu sells for $10.
Dreamcatcher
Our final item in this year's kids section of our One-of-a-Kind Finds Holiday Gift Guide are these great, handmade dreamcatchers made by a local woman and sold at Frazee Gardens in Brownsburg.
You can tell a great deal of care and creativity went into these as they appear to be made of a combination of ribbon, lace, beads and feathers and sell for $12 or $20 depending on the size and style.