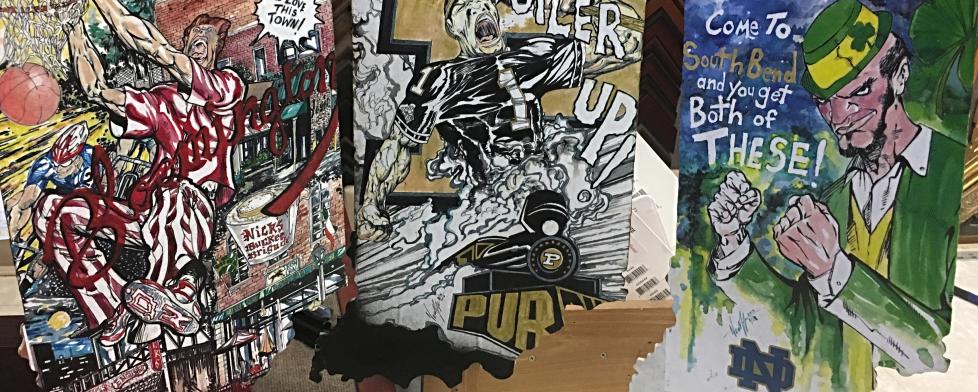 The Visit Hendricks County staff have scoured Hendricks County looking for one-of-a-kind finds you can only get here. In many cases, that means these gifts are handmade by local artists or simply are items you will only find in Hendricks County.
This installment focuses on gift ideas for men and has a little bit of everything. But even if the particular item we feature may not be exactly what you're looking for, we suggest visiting each of these small businesses as they just might have that gift idea you thought you would never find.
You can find our complete One-of-a-Kind Finds Holiday Gift Guide by clicking here.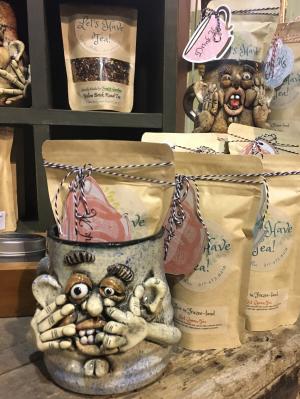 Whimsical Mugs
This isn't the first time we've seen these interesting mugs with funny faces on them, as Gallery on the Square has sold them in the past, but this was the first year we found a spot in our holiday gift guide for them. 
These ceramic mugs designed by a local artist are so interesting and fun that they can't help but bring a smile to your face and perhaps become a keepsake for that coffee or tea drinker in your life. They can now be found at Frazee Gardens in Brownsburg, and range in price from $38-$42.
Dr. Who Memorabilia
Is there a man in your life who is a Doctor Who fanatic? If so, we have the place for you to shop.
Who North America, which is dedicated to the hit British television show Doctor Who, just opened its massive store and museum in March along Ind. 67 in Camby, and is the only retailer solely dedicated to Doctor Who on this side of the pond.
With nearly 5,000 square feet of retail and museum space, this store has thousands of items for sale including everything from action figures to masks, books, mugs, games and the list goes on and on. Items range from $1 to $250 with the average item costing about $20. If you can't find the Doctor Who item you're looking for here, you won't find it anywhere.
Letter Frames
We haven't featured this gift idea since the first year of our gift guide back in 2013, but since they are still popular at Gallery on the Square, 51 S. Washington St., Danville, we figured it might be time to include them again. These letter frames combine artistry and architecture and can be customized to show your allegiance to a college or sports team or can even be inspirational.
Really the sky is the limit as hundreds of individual photo letters can be purchased to make that perfect wall decorator piece. The frames are made of glass with a wood backing and can quickly and easily be changed for a different look or to create a new word or design. Individual photo letters cost $10 each.
State Werx by Rival Art
We found this cool artwork by Audwynn Newman, a Plainfield man who previously drew for Marvel and D.C.Comics, at three different places in the county including Old Bob's in Avon, Frazee Gardens in Brownsburg and Grandma's Oven in Plainfield.
These cool creations are a little hard to describe (a picture of them can be found at the top of this story), but I think just about any guy would love them. Think comic book art themed to your favorite local, college or pro sports team on a piece of wood cut out in the shape of the state the team represents. Most of the art we saw was on the shape of Indiana. However, we did see some Cubs art on a piece of wood cut in the shape of Illinois.
Each piece costs $45.
Repurposed Light Fixtures
Back for a second straight year, we had to include these again because of the uniqueness, creativity and overall cool factor. Besides, local entrepreneur, Rich Armstrong, had added some new creations using antiques including old car parts and signs that you must see at Old Bob's, 10896 E. U.S. 36 in Avon.
His collection comes from the unlikeliest sources: an old bass drum pedal, hollowed out books, old hubcaps and the list goes on. He even does custom work if you have an old item you would like him to turn into a light.
He also had rustic vanity lights for sale made from various woods and other items. I was told much of the wood was salvaged from old barns. Prices begin around $45 and go up from there with the vanities costing around $150.
Mr. Root Beer or Wine Making Class
If you are looking for something a little different for that hard-to-buy-for dad, perhaps an experience might be a great option. We found a wine-making class at Great Fermentations that includes all the equipment and ingredients needed to make a gallon of Cabernet Sauvignon, Merlot, Pinot Noir, Moscato, Chardonnay or Pinot Grigio. Participants will start the process in class at their store and finish at home. Cost of the class is $79, which is a deal considering the cost of doing it yourself would be $90.
Great Fermentations also sells a take-home kit called Mr. Root Beer that is educational, fun and delicious and would be a great bonding experience for a dad and child. Plastic bottles are included with the ingredients for $26.99.
Grease Monkey Art
Part of the fun of visiting these locally owned shops is being surprised during the shopping experience, and that is exactly what happened inside a booth at Gizmo's Galleria in Brownsburg.
We were pleased to find Ave's Grease Monkey Art where old car and bicycle parts such as springs, gears, piston heads and even bicycle chains were used as the centerpieces for art creations including a pig, penguin, elephant and crosses. He even had a piston lamp and horseshoe wine holder.
These were truly one-of-a-kind pieces by a Brownsburg artist that ranged in price from $15 to $60.
Framed Racing Photography
Our final item for that man in your life is another returnee from last year at Old Bob's in Avon. At first glance, the framed racing photos appear to be paintings.
However, on closer inspection, they actually are photographs taken simultaneously at different exposures at the Indianapolis Motor Speedway of primarily vintage race cars giving the appearance of a painting and actually showing some action.
These truly amazing pieces also show another aspect of that store's framing capabilities. The already framed pieces sell for about $135 though they do have unframed photographs as well.