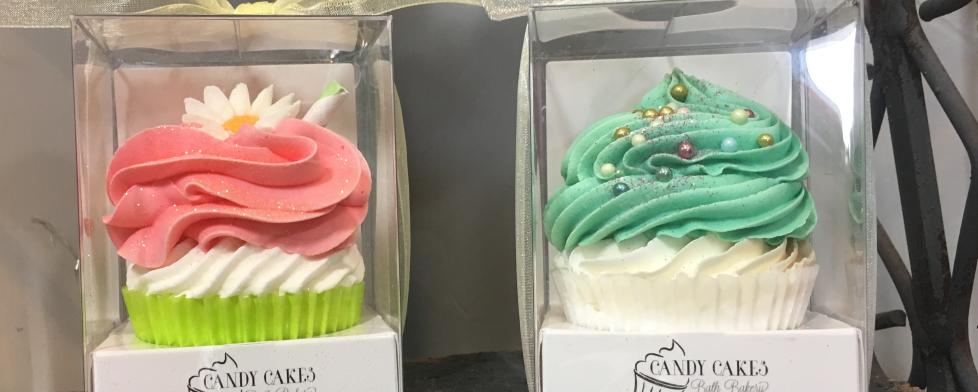 The Visit Hendricks County staff have searched high and low looking for one-of-a-kind finds you can only get in Hendricks County. In many cases, that means these gifts are handmade by local artists or simply are items you will only find in Hendricks County.
This installment focuses on gift ideas for stocking stuffers and has a little bit of everything. But even if the particular item we feature may not be exactly what you're looking for, we suggest visiting each of these small businesses as they just might have that gift idea you thought you would never find.
You can find our complete One-of-a-Kind Finds Holiday Gift Guide by clicking here.
Personalized Bookmarks
We uncovered a great stocking stuffer for that bookworm in your life. Artistic Designs Gallery in Brownsburg has some unique bookmarks made of steel and adorned with beads and other trinkets. We found one with a cowboy hat on the end and another with a train.
Designed by local artist Sharon Owens, these could truly become a keepsake, and for $10 each, they also seemed like a great deal for the quality.
Peppermint Bark
Always a dependable shopping destination especially when it comes to stocking stuffers, Confection Delights came through again this year with a white chocolate peppermint bark that comes in a candy bar size for $3 or in pieces inside a decorative bag for about $5.
We highly recommend just going to the store on the historic Hendricks County Courthouse Square as we are sure you will find plenty of other stocking stuffer options during your visit.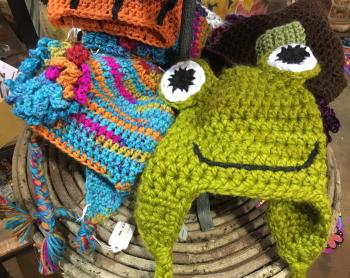 Hand-Knitted Stocking Hats
When I perused the local, handmade section at Frazee Gardens in Brownsburg, I was immediately drawn to these amazing hats that any young girl or boy would love to own. Made by Sandy Hunt, the first one that really caught my attention was in the shape of a frog that I knew my son would love. We also found similar hats at Kids Go Round in Plainfield.
Various versions included popular braided, ponytail hats that many young girls love to wear in the wintertime. You could just tell by looking at them and feeling them that a lot of painstaking work went into making them, and the quality was exceptional. Ranging in price from $12 to $22, the hats were even more affordable than I expected.
Candy Cakes Bath Fizz
If you have someone on your list who loves to take baths, we have just the stocking stuffer. Younique Culture in Plainfield has these interesting products made by the Candy Cakes Bath Bakery that look like actual cupcakes. They seem so realistic in fact that you would think you could eat them. Instead, you drop them into your bath water for a fizzy, fragrant experience.
They come in different sizes and packs and range in price from $5 to $16.
Popcorn
We found two Hendricks County locations selling different varieties and flavors of popcorn this year with Hoosier ties.
Queen Anne's Lace in Brownsburg features 12-14 ounce bags of Good's Candy Shop popcorn from Anderson. For just $5.99 a bag, you can buy flavors such as Christmas Eve Crunch (caramel popcorn with white chocolate, pretzels, cranberries and chocolate-covered cherries), Peanut Butter, Caramel, 3-o'clock Crunch and Zebra.
Big Tuck's Feed & More in Pittsboro is one of four stores in Indiana selling Jasper Gift Basket & Popcorn Company popcorn. The company boasts 90 different flavors. Big Tuck's was carrying Neopolitan, Blue Raspberry and some fall and Halloween flavors when we stopped in that I'm sure will change as the holidays approach. Each bag sold for $7.49. They also had a few gift baskets that included chocolate, popcorn and a few other goodies for $24.95 each.
Handmade Candy Canes
What would a stocking be without candy canes? Well, the best part about this next stocking stuffer is it should be accompanied by an experience. See candy canes made right in front of your eyes at the Martinsville Candy Kitchen on the Morgan County Courthouse Square in Martinsville.
Anytime in December is a great time to head down to witness the actual candy cane-making process as workers there color, pull, shape and cut candy canes by hand. My family went down last December, and my son thoroughly enjoyed watching the process through a viewing window. Make sure to call ahead before you go to find out if they will be making candy canes that day and what time. 
But you don't have to be there when they are making the candy canes to come away with a great gift or stocking stuffer. They have various candy canes available for purchase. Prices vary based on size and amount.
Headbands
Grandma's Oven in Plainfield had a great stocking stuffer among its handmade selection inside the restaurant. We loved the headbands for men, women and children made by Specifically Random.
The headbands came in a variety of styles, sizes and colors and cost $12-$14.
Handmade Lanyards/Key Fobs 
Finally, we discovered the final stocking stuffer this year inside a brand new store on the Courthouse Square in Danville called Blush Boutique. Like the many boutiques that have popped up recently in Hendricks County, this one also specialized in designer clothes for women. However, near the checkout counter, we discovered these handmade lanyards and key fobs.
Offered in a variety of colors and designs, the lanyards cost $10 and the key fobs $8.