Halloween is over, and we all know what that means. It's time to shop for Christmas!
Ok, I know some of you are done shopping. (Hi, mom). And some of you haven't even started (me). But here's the fun thing: in Hendricks County, Indiana, your holiday shopping doesn't have to be a line item on your to-do list! Make it a fun experience for you and your friends and family!
Check out our holiday shopping roundup, write out your Christmas lists and mark your calendars for these fun holiday shopping events.  What's even better is that you are supporting local businesses in the process.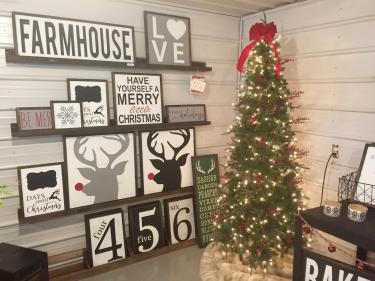 Norelu is a local store in Lizton featuring the talents of owner Brooke Canada. At Norelu, you can purchase handmade wooden signs in various styles, sizes, sayings, colors and designs. Norelu can also create customized signs based on customer requests.
Plan to attend their 3rd Holiday Open House on Nov. 9 from 10 a.m. to 6 p.m., where they will be debuting their 2019 Holiday Sign Collection as well as other unique holiday décor and gifts.
There will be treats and refreshments to enjoy throughout the day so don't miss it!
Kick off your Christmas decorating by stopping into Country Harmony, which offers a full range of high-quality plant material and a vast range of home décor for all your seasonal decorations, both inside and outside your home!
You can also find gourmet gifts here, and the open house will feature many sale items! Make this your first stop on Nov. 9. The store will be open from 9 a.m. to 5 p.m. at 721 N. Green St. in Brownsburg.
Craft shows are the best because you're buying an original handmade gift made locally. That's a win on all fronts. 
Don't miss this craft show, presented by the Hendricks County ICON, on Nov. 9 from 9 a.m. to 4 p.m. at the Hendricks County 4-H Fairgrounds and Conference Complex in Danville. 
Shop local wares, and kiddos can get their photo taken with Santa from noon to 2 p.m. The cost is $3 a person, and kids 12 and under are free.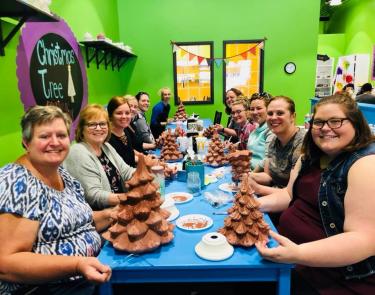 What's better than a homemade gift, especially from the little ones?
This walk-in, do-it-yourself studio has released family holiday event days to create clay handprint ornaments before the holidays. You can choose from 30 different ornament styles, and capture those little hands for years to come.
Once the prints are fired, uPaint Pottery Studio staff will custom paint your ornament into your choice of a Santa, reindeer or tree. You can even do your fur babies, celebrating your little fluff of love by creating an ornament of their paw print.
These handprint events will take place on Nov. 13 and 18 with a special paw print event on Nov. 26 at their studio located at 1820 E. Main St. in Plainfield.
Gilley's Antique and Decorator Mall is known for its sprawling warehouse of goods and antiques. For the 25th year, they'll be hosting their holiday open house, featuring the best of their holiday decorating and shopping.
Three days of savings will take place from Friday, Nov. 22 through Sunday, Nov. 24 through the entire mall. The dealers inside the mall will even have holiday treats for participants. The holiday fun will take place from 10 a.m. to 5 p.m. all three days at Gilley's, 5789 E. U.S. 40 in Plainfield.
Check another event off your arts and crafts fair list by attending the Washington Township Arts & Crafts Fair on Saturday, Nov. 23 from 9 a.m. to 3 p.m. at Washington Township Parks Pavilion, located at 425 Whipple Lane in Avon.
It's free to attend and browse handmade and re-purposed crafts, jewelry, pottery, art and clothes. Food and drinks will be available for purchase to fuel your shopping frenzy!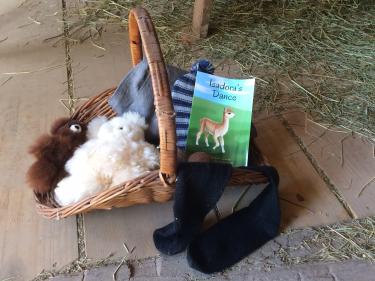 Hendricks County really does think of everything. If you want to take your Christmas shopping to the next level, plan to shop with the alpacas on Saturday, Nov. 30 from 11 a.m. to 2 p.m. at Montrose Farms Alpaca Ranch in Brownsburg!
It's just like it sounds. Montrose Farms will be open on Small Business Saturday for you to shop a variety of alpaca merchandise, including alpaca fleeces and Isadora's Dance, a children's book about a blind baby alpaca! This event is free to attend.
Speaking of Small Business Saturday, the Town of Brownsburg is a Neighborhood Champion for the American Express-led initiative again this year to help promote locally-owned small businesses.
Start your shopping day by visiting the Brownsburg Town Hall Lobby, 61 N. Green St. in Brownsburg, on Nov. 30 where a Small Business Saturday welcome station will be open from 8:30 to 11:30 a.m., offering free coffee and pastries for those embarking on Shop Small Saturday in their community! You can also get a Shop Small Canvas Tote and a list of all the businesses participating.
The final option for Shop Small Saturday on Nov. 30 provides an all-day shopping experience by bus where you can mingle with others in your community while visiting local businesses. Tickets are on sale for a ride on one of two buses that will tour Hendricks County.
Tickets are $30 and include goodie bags, a light breakfast, lunch and drinks. You can purchase tickets at Michele's Boutique and Gifts, Sweet M's, Ella Mae's, or Tiffany's. Buses will leave at 9 a.m. from the old Kmart parking lot in Brownsburg and return at 5:30 p.m. Click here to see the bus route or for more information.
Support your local farmers, producers, food-inspired companies, artisans, bakers and direct sale vendors for a memorable afternoon of shopping! This is a great way to get to know the community, too. Maybe you'll find your favorite local business while you shop. 
Mark your calendar for Sunday, Dec. 1 from 11 a.m. to 4 p.m. at the Hendricks County 4-H Fairgrounds and Conference Complex in Danville.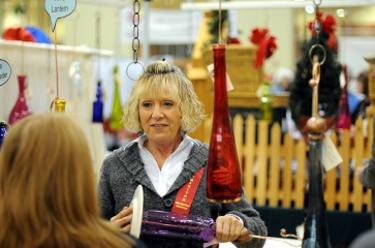 Finally the granddaddy of them all when it comes to shopping events in Hendricks County occurs each year on the first Saturday in December at Plainfield High School.
Don't miss Plainfield Tri Kappa's Annual Gingerbread Christmas on Saturday, Dec. 7 from 9 a.m. to 3 p.m. This is the perfect opportunity to combine your Christmas shopping with improving the community.
This ultimate collection of the county's best craft items includes 120 vendors selling handmade items. This show is juried, so each vendor is selected by a committee to ensure an overall great shopping event!
Vendors even restock throughout the entire day. Proceeds from booth rental and admission go back into the community, as Tri Kappa supports over 30 local organizations in Hendricks County with the funds they raise each year.