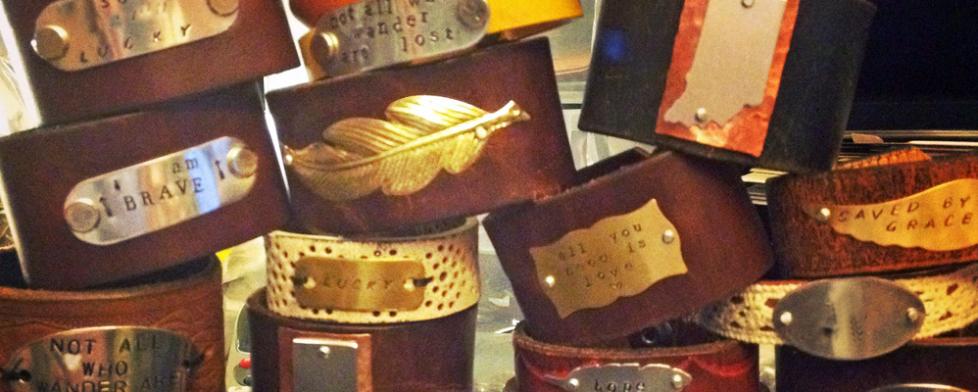 The Visit Hendricks County and Visit Morgan County staffs once again searched high and low for the 2015 version of One-of-a-Kind Finds, holiday gifts you can only find here. In many cases, that means these gifts are handmade by local artists.
This installment focuses on those always-hard-to-buy-for teens. But even if the particular item or experience we feature may not be exactly what you're looking for, we suggest visiting each of these small businesses as we found many other worthy gift ideas that we didn't profile in our Gift Guide but might be perfect for your loved one.
Personalized Hand-Stamped Jewelry
Seize the Night Designs, 51 W. Marion St. on the Hendricks County Courthouse Square in Danville, is one of those places you just need to walk in and see for yourself as the creativity and gift ideas are just endless. I always find myself seeing something and thinking of some loved one anytime I'm in there because their items seem so personal.
But for the teens, we found all kinds of amazing jewelry including bracelets, necklaces and even leather cuff bracelets for guys or girls. Each can be customized by putting hand-stamped sayings, names or anything else you can think of on them.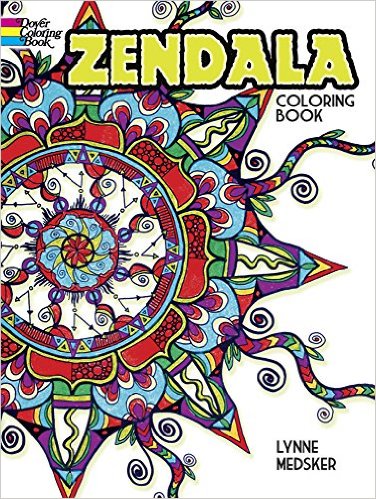 The prices are reasonable, too, hovering mostly in the $15-$20 range depending on the item.
Zendala Coloring Book
Designed by local artisan Lynne Medsker and found at two locations in Morgan County and another in Hendricks County, this unique gift would be great for any artistic teen or even adult.
Each book offers hypnotic circular images for coloring that's both relaxing and inspiring. Thirty original designs feature flowers, geometric shapes, and abstract and figurative patterns, all radiating from mandala-shaped centers.
Colorists with a taste for psychedelic art will particularly appreciate these mind-bending patterns. Costing under $5, the price is right, too.
You can purchase the books at Lynne Medsker Art & Photography, 4030 Wilbur Road, Martinsville. Her studio has limited hours, so you can also find the books at Artistic Designs Gallery, 1038 E. Main St., Brownsburg, or The Sterling Butterfly, 190 E. Morgan St., Martinsville.
Handmade Texting Gloves 
One of the most unique finds we discovered at Frazee Gardens, 3480 N. Ind. 267, Brownsburg, were hand-knitted gloves that come in a variety of themes and colors and have one big hole at the top for your four fingers and a small hole on the side for your thumb.
With seemingly every teenager having a smartphone or iPod device these days, these fingerless gloves seemed to be an ingenious design to keep those fingers free for texting while still keeping hands warm during the winter months. The bottom of the gloves even extend longer than a traditional glove going past the wrist. The gloves cost $30.
Excavation Kits
We found these interesting excavation kits at FROGS, 108 W. Main St., Pittsboro, that allow children to dig and discover precious stones and rocks.
The sets come in various options featuring different gemstones and clusters to be discovered and are geared for children ages 5-14. The sets cost $12.95.
We had a tough time focusing on just a couple of gift ideas at this shop as they also have rocks made into animal shapes, rock jewelry, Christmas ornaments and so much more. They offer classes and even have a dinosaur relic on display that is 65 million years old that is a must see when you visit the store!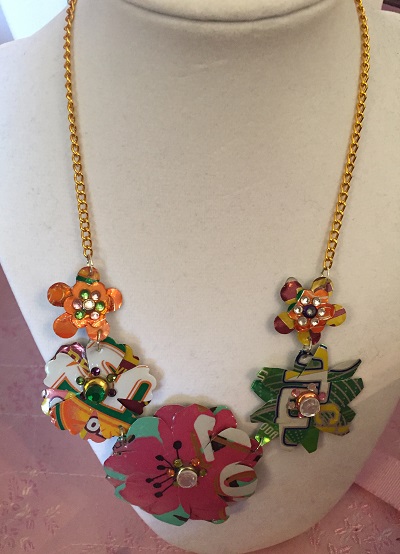 Recycled Soda Pop Can Jewelry
Jane's on the Square, 65 W. Marion St., Danville, features stylish, yet whimsical bracelets and necklaces made from soda pop cans. While that may sound a bit odd, we found these creations to be amazing and the story behind them to be even better.
I'm not going to be able to do the full story justice here, but a local teenager created Millie's Jewelry to help raise money for a cause called Save the Girl by Care India through her local church.
So, by buying a bracelet or necklace you are not only purchasing a gift any teenage girl would love, you are helping girls in India get an education. To learn more about the Millie's Jewelry story, click here.
The bracelets and necklaces are just $5.
Boot Cuffs
With boots becoming all the rage these days, a market is building for boot cuffs, which we happened to find at various shops in Hendricks County including Ella Mae's Boutique in Brownsburg. Even though we list this particular item in the teen section, it obviously would be a great gift for any woman who loves boots.
In fact, if you have a woman you are shopping for, we highly recommend a stop at Ella Mae's as most of its products cater more toward adult women.
Boot cuffs add style, color and warmth to any boot and vary depending on the shop. Embellished with various accents, they can be worn in a couple of different ways. Pricing on the boot cuffs also vary per shop, but are quite affordable. 
We also found boot cuffs at Frazee Gardens in Brownsburg and Seize the Night in Danville.
Sky Zone Experience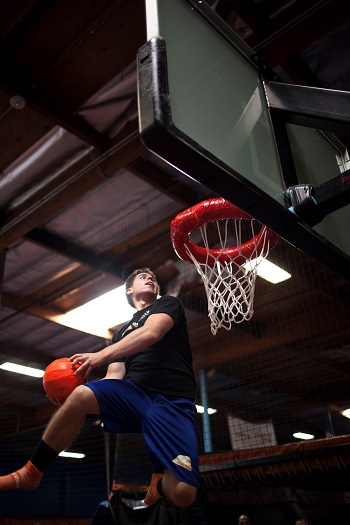 What better gift for a teen than a trampoline experience complete with basketball rims to dunk on, dodgeball pits to compete in and many other areas for indoor, 3D play experience.
Sky Zone Indoor Trampoline Park, 851 S. Columbia Road, Plainfield, offers various prices based off the amount of time you pay to jump. Prices start at $9 for 30 minutes to $20 for 120 minutes. They even have a special holiday promotion going that includes a free 30-minute jump pass and skysocks (an additional $11 value) when you purchase a $30 gift card.
The staff suggests purchasing tickets in advance if you want a guaranteed jump time. Sky Zone caps its capacity to keep the jumping safe and fun for all.
Handmade Bath Products
Soaps, shampoos and body washes seem to be gaining momentum as well from retail giants like Bath & Bodyworks. We found a way to save a few dollars, support small businesses and still get a great bath product here in Hendricks County in three unlikely locales.
Outta the Shed, a mostly antique store on the square in Danville, Frazee Gardens in Brownsburg and Enchanted Journey in Coatesville all had various handmade bath products at varying price points. Check out the closest one or visit all three locations and compare.