Out of all of the things we've done this HollyDays season for our weekly video series, my family was most excited about going to The
Crag Indoor Rock Climbing Gym
.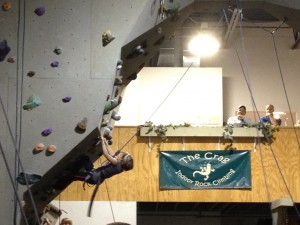 All my kids, including Noel, were so excited to go climbing on their Christmas break, and what a wonderful place for a parent to take their children. Anything active beats watching them play video games all day. I've never really liked to sit around anyway, and luckily that has carried over to them. When we first walked into The
Crag
, we were greeted by the friendly staff and encouraged to just have fun. The
gym
is an indoor rock climbing facility with walls for every skill level. We mostly stayed on the wall for beginners, but the next time we go back I think we'll be ready to try the more difficult ones. The staff at The Crag, which is a family-owned business at 485 Southpoint Circle in Brownsburg, welcomed us with open arms. There were several moments throughout the evening when my kids got nervous but not only did Michael (one of the owners) make them feel comfortable, he also gave them the inspiration to push harder. To say I was impressed is an understatement.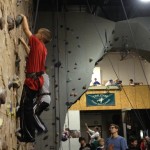 There was a birthday party going on when we arrived and the facility was pretty busy, but there was still more than enough room for us to continuously climb. Once we were clipped in, we didn't seem to notice anyone else was there. Actually, when we got home that evening, Jack requested that we celebrate his next birthday there. So, make sure you check out The Crag Indoor Rock Climbing Gym and some of the other active indoor entertainment options Hendricks County has to offer as you try to shed off some of those holiday pounds this winter. My family also likes Jump-N-Play and Monster Mini Golf in Avon, or you can always bundle up and enjoy some natural climbing with a hike at one of our awesome parks. The
Hendricks County Convention and Visitors Bureau website
has a whole list of fun
family activities
. But before you go, you have to check out this
video
! I think you will really enjoy it. It even includes a cliffhanger, quite literally, that involves me. I really was super excited to go rock climbing until...well let's just say the ride down the wall was very eventful. From our family to yours, have a safe and happy HollyDays season!