I have a core group of girlfriends who I just click with on every level. We have painted pottery, participated in a wine and canvas event and held porch parties. As long as we are together, it really doesn't matter what we are doing because we always have fun. But I had no idea that a unique opportunity existed right here in Hendricks County to have amazing experiences and spend quality time with my girls.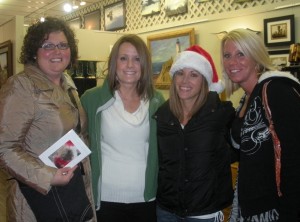 When I began to shoot my latest
HollyDays
video about exploring the
Hendricks County Convention and Visitors Bureau's
Rural Routes to Main Street Cultural Trail, I had to include them. Check out our adventure by going to our
HollyDays video page
. I don't think there could be a better way to experience this wonderful self-directed
Rural Routes to Main Street Cultural Trail
driving tour than with a bunch of your girlfriends. We had so much fun together at one of the stops,
Gallery on the Square
in Danville. We each created our own work of art using pieces of fiber. Who would have thought someone like me, who has trouble drawing a stick figure, could create such beautiful art? To have my girlfriends there with me made it so much more special. We love to laugh and cut up, and gatherings like these are even more beneficial this time of year to give us a break from the daily grind of work, bills, shopping, etc. I also had no idea that the Gallery on the Square had so many interesting items to purchase beyond traditional artwork. Jewelry, distinctive wood cutting boards and even trendy fashion accessories were just some of the amazing things I discovered there.
I also visited Nomad Yarns in Plainfield by myself. This wonderful little shop, which is also on the Rural Routes to Main Street Cultural Trail, had more yarn and other fibers in one small area than I could have ever imagined. I've never knitted or crocheted anything, but one visit there has me rethinking that. They also have some wonderful classes there for beginners. I would encourage anyone, whether you live in or outside of Hendricks County, to shop local by checking out all 15 stops along the Rural Routes to Main Street Cultural Trail. It just so happens there is no better time to experience these great places than later this month during its Holiday Open House Dec. 8-10. During this three-day weekend event, each location will have special workshops and demonstrations. For a complete listing of activities or for more information, click
here
. You'll be glad you did!