Have you checked out the
Hendricks County Convention and Visitors Bureau
's new
HollyDays game
- Santa's Cookie Trail Adventure - yet? For those who haven't, let me tell you this new HollyDays game is tons of fun for any age, and boy is it addicting. I will caution you though that it works better with Firefox, Safari and Google Chrome web browsers. In fact, don't even try using Internet Explorer. I don't know why but our game's interface and that program just don't play well together.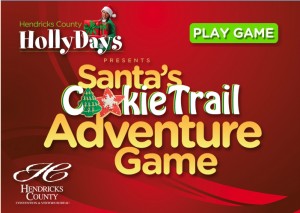 Anyway, the HollyDays game follows a simple concept, which is what probably makes it so addicting. We give you a chance to be Santa and drop gifts - in this case cookies - down neighborhood chimneys. Watch out though for those pesky geese. Every time you hit one, it costs you points. Make sure to turn the sound up on your computer, too. I love the music, and you get a hearty "Ho Ho Ho" from Santa every time you sink a cookie in a chimney. In my first test of the game, I racked up a score of 152, though as I got the hang of it I posted much higher scores. I even pulled out the laptop the other night at home to show our new HollyDays game to my 4-year-old son. Dad controlled the sleigh while he dropped the cookies. We both absolutely loved playing together, and it was so fun to see his eyes light up and the giggles that followed. We even were able to finish with a score of 16, which had us both hooting and hollering and our arms stretched over our heads after tallying a negative score during much of the game. One aspect of the HollyDays game that probably will get overlooked by most players, but that I want to highlight, are the billboards behind Santa's sleigh.  If you are from Hendricks County, you may recognize some of the names on those billboards:
Wilbur's Lincolnwood Toy Store
,
Evans Whispering Pines Christmas Tree Farm
and
Grandpa Jones' Popcorn and Candy Shoppe
. If you have never heard of these places, you're really missing out. These are three of our 13 can't-miss Hendricks County HollyDays
Cookie Trail
destinations this holiday season. So, check out our
HollyDays website
, play our game, follow our Cookie Trail, watch our
videos
, look for exclusive coupons at some well-known Hendricks County retailers and make sure to avoid those pesky geese!