The
NHRA Chevrolet Performance U.S. Nationals
may be over, but that doesn't mean the action out at
Lucas Oil Raceway
 in 
Brownsburg
 is slowing down because
HOT ROD Magazine's
Drag Week '13 will give race fans yet another fantastic reason to visit
Hendricks County
 next week.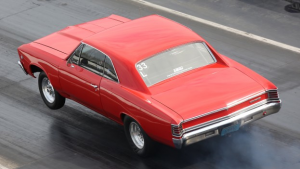 HOT ROD Drag Week '13 is a really neat event as 250 street cars go on a week-long tour of the Midwest, traveling more than 1,000 miles and racing on
four different tracks
in four different states over the course of five days. It's an absolutely insane schedule. The Drag Week drivers start in Bowling Green, Ky., on Monday, Sept. 9, racing at Beech Bend Raceway. Then they immediately pack up and head our way because from 4 to 9 p.m. that night, they're cruising in front of the 
Barnes & Noble
bookstore at the
Metropolis Mall
in
Plainfield
!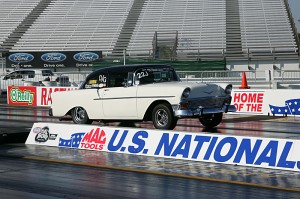 That's right, you can load up the family and head down to Barnes & Noble on Monday evening and
check out the street cars
that will be thundering down Lucas Oil Raceway's dragstrip the next day! See the cars, take pictures, meet the drivers, get autographs and hear those engines roar!
(DRIVERS:  Need suggestions on where to eat in Hendricks County? Click here. You can also learn what restaurants come recommended by NHRA drivers from our area by clicking here. Need a place to stay? Click here.)
If you plan to attend the event at Metropolis, I would suggest finding Larry Larson. He's a chassis builder out of Oak Grove, Mo., and you'll likely find him near his 1966 Chevrolet Nova. What makes Larson special? He has won Drag Week
five times in a row
in that Nova and topped 200 mph on a quarter-mile strip. HOT ROD Magazine even named his Nova the Fastest Street Car in America. Want to see him in action? Check out this video from last year's Drag Week, where he exceeds 208 mph. [youtube]http://youtu.be/jCMUNkG1nwY[/youtube] Larson is an amazing racer and car guy, and he's definitely worth seeking out while you're in Plainfield. There's no rest for the wicked, so after the event at Metropolis, the Drag Week drivers are up and at 'em the next morning -- Tuesday, Sept. 10 -- for some drag racing from 8:30 a.m. to 1 p.m. at Lucas Oil Raceway. It's just $5 a person for spectators to come see these guys roar down the track for a few hours, which might help with the withdrawals you're suffering following U.S. Nationals.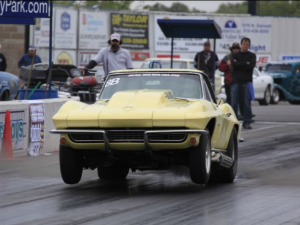 Then just as quickly as they arrive, the Drag Week drivers are gone. They have to get to St. Louis to race on Wednesday; then Memphis on Thursday; and back up to Bowling Green on Friday. As I said before, an utterly insane schedule.
Meet the Drivers
4-9 p.m., Monday, Sept. 9. 
Metropolis Mall, 2540 Futura Park Way, Plainfield
In front of Barnes & Noble bookstore
See 'Em Race!
8:30 a.m. to 1 p.m., Tuesday, Sept. 10. 
Lucas Oil Raceway, Brownsburg
$5 per person