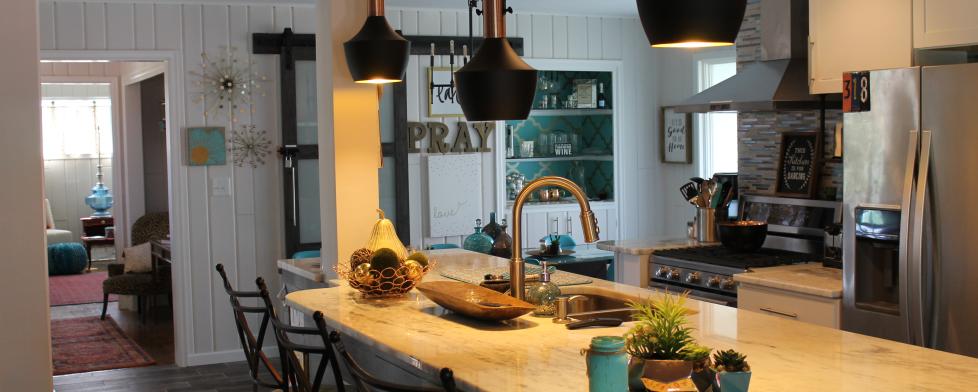 To this day, Nancy Robbins has never stayed in a vacation rental property. But that hasn't stopped her from owning and operating one in Plainfield, Indiana.
The Dallas native spends about one or two weeks every quarter in Indiana, partly due to her family ties here and partly because of her job as an event planner. So, she finally decided to invest in a property that could serve as her home away from home when she was here, and that she could offer up to other travelers when she wasn't.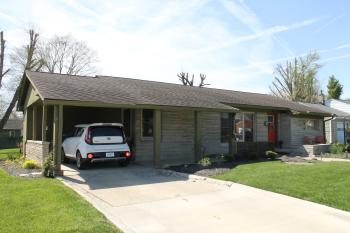 Located at 318 S. Carr Road in the heart of Plainfield, the home, which was built in 1960, doesn't look like anything special on the outside despite all the work Robbins put into it. But it shines on the inside featuring what she describes as mid-century modern meets ranch. The 2,300-square-foot, 3-bedroom home reminded me of Palm Springs, Calif., architecture.
Open Concept
Robbins said she blew the inside of the house apart to open it up. She is responsible for most of the unique touches.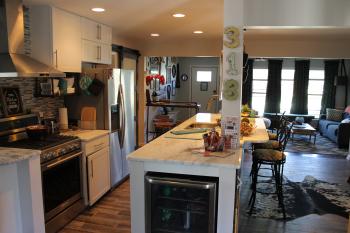 "We wanted an open concept for entertaining guests and really just built it with travelers in mind," she said.
I loved the kitchen in the center of the home with marble countertops and many other contemporary updates. It serves as the hub of the home.
Just off the kitchen a coffee bar and dining area give visitors one place to gather and then on the other side of the kitchen just inside the front door, a living room with cozy chairs, a couch and end tables provide another gathering spot. A third gathering spot can be found just off that front living room, which Robbins turned into a media room complete with comfy seating for four, a large television and stereo surround sound.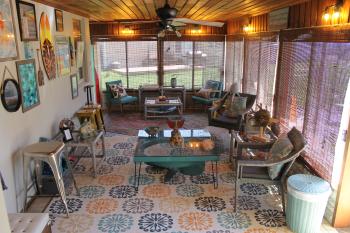 The fourth and final gathering area is also Robbins' favorite room and the room that drew her to this particular house. The sunroom leads to the backyard and has plenty of seating for numerous guests.
It also was the room she changed the least just adding design and home decor touches to complement the beach feel that she felt it already possessed.
Robbins seemed to think of everything as she added an amenities closet filled with personal hygiene items in case visitors forget something. She has a fully stocked fridge, free wifi, a printer and a combined pantry and laundry room with everything a guest would need.
She used barn-style sliding doors throughout the house to add a contemporary design theme and even has a unique Be Our Guest wall that visitors can sign.
Each bedroom has a theme including a southwest-inspired room and an airport lounge room. She said the house can sleep 12 comfortably and even up to 14 with an air mattress. She only lists the home on the Airbnb website. The current cost is $171 a night and requires a two-night minimum stay.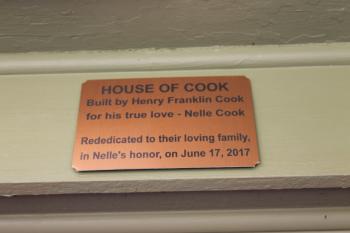 The home had only two owners prior to Robbins. She planned to call the home the House of Carr because of its location on Carr Road until she learned about the original owners, Henry and Nelle Cook, and met their family. She learned Henry had built the home for his true love Nelle. That's when it became The House of Cook, Robbins said.
A plaque above the front door that Robbins added announces that to every guest. Other things she learned about the family after decorating the home blew her away. She added a sign above the stove in the kitchen that says, This Kitchen is for Dancing, before learning that Henry and Nelle commonly danced together in that same kitchen.
She also had an area leading to the master bedroom that she wasn't sure how to decorate at first, so she turned it into a collection of travel trinkets. She soon learned the Cooks had used that same space for the same purpose.
Details
What: House of Cook vacation rental property
Where: 318 S. Carr Road, Plainfield, Indiana.
Cost: At publication, $171 a night (Check Airbnb website for current prices.)
Amenities: Three bedrooms, two full bathrooms, seating for 20-25 people in main area, sleeping accommodations for up to 12 people and much more.