It is so hard in our current climate to know what to do when a virus that has caused a global pandemic still lingers.
But at the same time, we must try to live our lives even if it is as cautiously as possible. We can't stop getting groceries or going out. In fact, it improves your physical and mental wellbeing to get out of the house and do things you and your family enjoy.
So, on that premise, I have put together a list of Hendricks County attractions going above and beyond when it comes to safety and sanitation for their guests in hopes of giving you a place to go where you can feel both welcome and safe.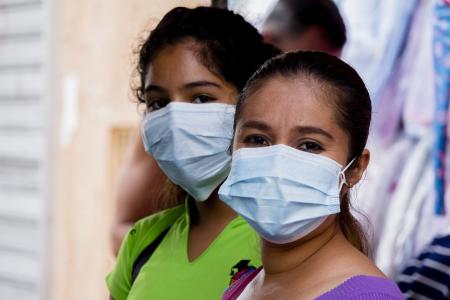 As always, we highly encourage the use of masks and practicing social distancing while out. To learn more about where the entire state is in terms of its reopening plan and how that directly affects Hendricks County, click here.
Before I get to specific Hendricks County examples, I want to highlight what the state of Indiana is doing to encourage safety through an initiative called the Hoosier Hospitality Promise.
Hoosier Hospitality Promise
Started by the Indiana Restaurant and Lodging Association and expanded by the Indiana Destination Development Corporation to include all visitor attractions, this promise protects employees and guests by committing to and following specific safety guidelines and protocols.
Some of the guidelines include complying with all social distancing requirements, regularly cleaning and sanitizing common areas and ensuring all staff pass a health check before starting their shift, among others. The promise also includes a consumer component that visitors must uphold. You can learn more about the Hoosier Hospitality Promise here.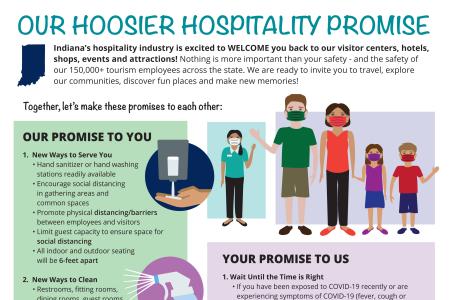 In Hendricks County, we have encouraged any facility welcoming guests to commit to the Hoosier Hospitality Promise. After committing, businesses can post a flyer near the entrance of their business to let visitors know they are part of the program. The Mayberry Cafe became one of the early adopters of this initiative in our county.
Here's other good examples in our county of businesses taking safety and sanitation seriously. This is not intended to be a comprehensive list. In fact, if you know of any Hendricks County businesses that have gone above and beyond that aren't listed here, let us know by leaving a comment at the end of this story and we may add them.
Cunningham Restaurant Group
The Cunningham Restaurant Group which owns four restaurants in Hendricks County is so serious about safety and sanitation that they developed their own CRG Hospitality Promise that is very similar to the state's Hoosier Hospitality Promise for all of its restaurants and the CRG Event Center in Plainfield.
I personally have been inside one of their restaurants since the pandemic started, and I can tell you firsthand that they take this seriously. I left there feeling they had done everything in their power to make me feel welcome and safe. That really is all you can ask a business to do during these times if you just need to get out.
Many of our restaurants throughout the county have also added or expanded outdoor seating to make guests feel more comfortable. For a complete list of our restaurants and what they are offering, click here.
Splash Island Family Waterpark
This top summer attraction in Plainfield just opened its outdoor facility this past weekend to 50 percent capacity, and I couldn't be more impressed with what they have done for their guests.
Splash Island has completely adjusted their day-to-day routine to focus on the wellbeing of both their visitors and staff members.
Some of their heightened safety measures include:
Increased sanitation on guest chairs, tubes and life jackets by staff after use
Multiple sanitation stations around the waterpark
6-foot distance markers
Only selling pre-packaged food at their concession area
Limiting the number of guests in their facility and at their attractions
Requiring that all staff in customer service roles wear facial coverings and also recommending masks for patrons when not swimming
Washington Township Pavilion
This event venue in Avon has taken increased steps in ensuring its renters take the necessary precautions after the state opened its restrictions allowing 250 guests in one area.
The Washington Township Park Pavilion Center's precautions include:
Any person entering a park building including guests at an event will have their temperature taken using a no-touch temporal scanner. If they have a temperature above 100 degrees Fahrenheit, they will be required to leave the building. 
They are not requiring but are encouraging that everyone who attends wear facemasks and maintain social distancing.   
Park staff will disinfect high touch items such as light switches and door knobs throughout the rental time.   
Lucas Oil Indianapolis Raceway Park
This racing destination in Brownsburg opened its facilities to fans at 50 percent capacity this past weekend for an ARCA event for the first time this year. All fans had their temperatures checked before entering the facility and received a mask (if they didn't have one). They strongly recommended the use of masks for spectators and all staff wore facial coverings.
Lucas Oil Indianapolis Raceway Park also will host two big national NHRA events coming up the next two weekends and safety will continue to be a priority. They will limit the number of spectators allowed on site and require masks or cloth face coverings throughout both events for everyone 2 years old or older. Masks must cover both mouth and nose.
They also will again have non-contact temperature checks prior to entry with anyone measuring above 100 degrees Fahrenheit not admitted. They will encourage social distancing and again all staff will wear facial coverings.
The Shops at Perry Crossing
This outdoor lifestyle mall in Plainfield has placed numerous sanitizing stations throughout its property that are regularly maintained and filled. The Shops at Perry Crossing have identified and marked their high traffic and high touch areas, such as seating areas and restrooms, and regularly disinfect and clean them.
Seating in the Town Square area has been modified to allow for safe distancing of guests. They also have worked with their tenants to establish curbside pickup spots to help provide contactless delivery to customers.
Signage has been posted around the center encouraging social distancing recommendations. They even posted signage at all elevators requesting that only one person or family ride at a time.
Many of their stores also have limited their capacity and placed markers to encourage their lines to social distance.
Hotels
Along with our restaurants, our hotels have been at the forefront of making their guests feel welcome and safe from the beginning. You can see what every hotel is doing by looking at their listings on our site. That said we've been impressed by the Hilton CleanStay program that our Hilton properties have implemented.
They have partnered with Lysol and Dettol to provide an even higher level of cleanliness to disinfect and kill germs in specific high touch areas in rooms, common areas like pools, bars and lobby areas and all other public areas.
Hendricks County's Hilton properties include the Embassy Suites Hotel & Conference Center, Homewood Suites and Hampton Inn in Plainfield and the Hampton Inn in Brownsburg.
For a complete list of all our hotels including their updated listings with what safety precautions and other amenities they have in place, click here.