A few weeks ago, I had the privilege of spotlighting one of my favorite restaurants in Plainfield, Indiana,
Stone Creek Dining Company
. I am equally as excited today to share with you Stone Creek's sister restaurant,
Boulder Creek Dining Company
, down the road in Brownsburg, Indiana.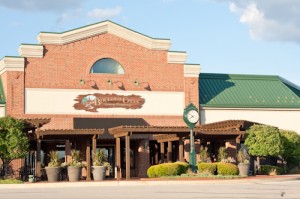 As I have stated over and over again,
Hendricks County
is home to some wonderful
dining establishments
, but the Cunningham restaurants would be at the very top of my list. Boulder Creek Dining Company located off of Ind. 267 in Brownsburg just north of I-74 was the founding restaurant for the
Cunningham Restaurant Group
. With a relaxing, lodge-like décor, this restaurant is perfect in every way. Boulder Creek boasts wood beams, vibrant colors and even some fun, tree décor within the restaurant.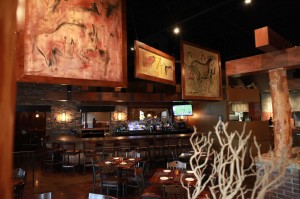 Upon entering, I was welcomed to a warm and cozy environment with the scents of amazing food coming from the kitchen. As with all of the Cunningham Group establishments, the
menu
is diverse and is sure to please any pallet. The menu selections range from choices such as tender and flavorful steaks to some wonderful fresh seafood choices and a great selection of pastas, pizzas and salads. (See I told you something for everyone!) By now, you should all know that this girl loves her beef, and I have had their steaks on several occasions and never left disappointed. Several of the steak options come with a great crusting or dip to enhance the flavor. But on this visit as a way to venture out of my little world, I decided to try something new, their pizza. I have always heard talk of Boulder Creek's pizzas and thought it was time I joined the fun. Let me just say the stories were all true, this pizza is amazing! I went with the Hoosier Pizza, and it was a true delight. The dough was homemade and soft. The ingredients were all fresh, and it was perfectly baked. I am not ashamed to tell you that me and my daughter finished this thing off. I even paired it with one of their fresh side salads for a perfect meal. According to Boulder Creek General Manager, Jeff Kelly, favorite items ordered at Boulder Creek include: Breaded Pork Tenderloin, Boulder Creek combo, Apple wood Chicken salad, Grilled Salmon Salad and Smothered Chicken.
Not only is Boulder Creek a great selection for your next family dinner out or date night, it has a private dining area that is perfect for your next event. With a room suited to fit 100 people and a staff trained to cater to such events, this is a great location for that big gathering you have been looking to plan. On several occasions, I have had the opportunity to have meals catered by The Cunningham Group and they are always wonderful. They are always sure to deliver the same level of quality and service to their catering events that you would find in any of their restaurants. Jeff Kelly mentions what a pleasure it has been to serve the Brownsburg Community the past 15 years, "We pride ourselves on delighting our guests with unforgettable dining experiences. Our expertise in delivering excellent food, superior service and ambiance make Boulder Creek an excellent choice for celebrating life, friendships and creating memories. Boulder Creek recently celebrated our 15th Anniversary in Brownsburg, and we're happy to have been part of the community for so many years." Looking for dinner this weekend? Head to Boulder Creek, you will not be disappointed. Are you an old regular like me? Why not venture out of the box like this girl and try something new? I'm sure you will love it!
Have a favorite? Please share in the comments section below? I'm always looking for new things to try!