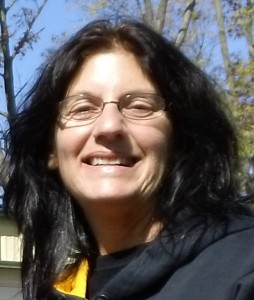 Editor's Note: Today's post features guest blogger Lena Starkey of Round Lake, Illinois. She is the third of three winners of our Win & Grin summer contest to submit a post about her trip to Hendricks County. What follows is her personal account of her Hendricks County Adventure and Outdoor Recreation Getaway, which included her husband and daughter. All the pictures and videos were taken with the Sony Bloggie camera she won as part of the contest.
Back in August, I signed up to win a contest called "Win & Grin" promoted by the
Hendricks County Convention and Visitors Bureau
to encourage people to visit this Indiana county. Of the three different getaways they offered in the contest, I thought the Adventure and Outdoor Recreation would fit our family best, and was I right. I arrived in Hendricks County with Tim, my husband, and Nikki, my daughter, on Oct. 6. Though the weather was a little cooler, it was just perfect for what they had planned for us. Our trip began at
Natural Valley Ranch
in Brownsburg, Ind. What a great place! The staff there, especially Stacey our trail guide, was great. They got us all mounted up for our hour-long trail ride, and then we walked, trotted and just enjoyed the scenery. [youtube]http://www.youtube.com/watch?v=iBVIMveDoUk&list=UU8x_r855M4mdwKchMOG5J1w&index=2&feature=plcp[/youtube] The trees were just changing colors, so it was really beautiful.  The only problem was that hour went by too fast because before we knew it we were done and off to our next adventure. We drove to
McCloud Nature Park
in North Salem, Ind. Stephanie, a naturalist there, greeted us and was very knowledgeable about everything pertaining to the nature preserve. Inside the Nature Center, we got to match up birds with their nests, listen to different bird calls and look and feel many different rock samples. They even had a viewing room where you can see all kinds of birds feeding and a library with all the information you ever wanted to know.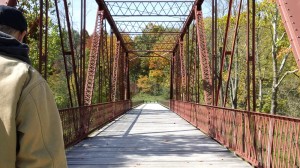 It was just great to actually get back to nature and see plants and animals, and enjoy the outdoors. We went for a hike and saw some beautiful colors again. The trees were awesome, and you can fish there, too. Stephanie described the many gatherings the park hosts. The evening we were there, they were having a campfire with s'mores and storytelling. How fun would that be? Refusing to slow down, we left McCloud and decided to check into our hotel before heading to our next stop. Our hotel, the Hampton Inn & Suites in Brownsburg, was great for us. The staff was very accommodating and always had a smile on their face making us feel welcome and comfortable. Our room was big and beautiful; the pool was warm and relaxing. We couldn't spend much time there, however, because it was on to the
The Crag Indoor Rock Climbing Gym
in Brownsburg for some indoor rock climbing. Wow, was this place awesome! I have never climbed before so I didn't know what to expect. There were climbing walls everywhere, even on the ceiling. Joe, our instructor, showed us how to tie knots to climb safe and how to anchor ourselves to keep the climber safe. It was harder then we all thought, but we did it. [youtube]http://www.youtube.com/watch?v=ndwhW09zWsU&list=UU8x_r855M4mdwKchMOG5J1w&index=1&feature=plcp[/youtube] My daughter was a little monkey, and Tim did well too, I was a little slow but enjoyed it nonetheless.  They were having a birthday party when we were there. What a unique and great idea. After all the fresh air and activity, we were ready for a great dinner so we headed to
Dawson's Too
in Brownsburg. If you are ever passing by, you need to stop in there! The chocolate cake dessert was out of this world, which provided a perfect end to a perfect weekend in Hendricks County.