One of the best parts of autumn is the burst of color across the landscape created by fall foliage. On Oct. 22 at McCloud Nature Park, you and your family can immerse yourself in one of the most colorful spots in Hendricks County during the Fall Colors Festival hosted by Hendricks County Parks & Recreation and the Parks Foundation of Hendricks County.
When I'm not writing blog posts for Visit Hendricks County, I work for Hendricks County Parks & Recreation, so if it's insider information you're seeking about the Fall Colors Festival, you've come to the right place. This is going to be a cool family-friendly event that I think you and the kids will really enjoy.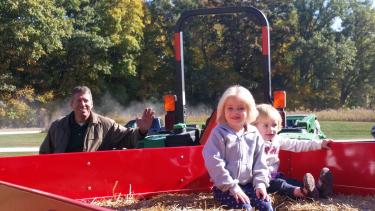 First, let's tackle the specifics. The Fall Colors Festival will be held from 10 a.m. to 4 p.m. on Oct. 22 at McCloud Nature Park, located at 8518 Hughes Road in North Salem. McCloud Nature Park is a 232-acre facility that boasts 6.5 miles of trails, access to Big Walnut Creek, a restored iron truss bridge that's over 100 years old, and a wide variety of tree species that are bunched close together, making the park a rainbow of fall foliage.
As for this event, it's my understanding that last year's festival had some issues, so all of us at Hendricks County Parks & Recreation have been working hard to plan an enjoyable and affordable family outing that will celebrate McCloud's fall foliage in the way it should be properly celebrated. We're not afraid to admit to last year's shortcomings. We just hope that if you were underwhelmed last year that you'll give us another try this year.
This year, we're going to have some basic archery instruction and target practice at the Fall Colors Festival. Our summer nature programs involving archery are insanely popular, so we think that some autumn archery will be a blast, too!
We're also going to have some tree-climbing instruction and practice available. Our new superintendent, Jeremy Weber, earned an undergraduate degree from Purdue in Forestry and Natural Resources and has extensive experience working in the forestry industry. So when we put our heads together to think of new and fun activities for this year's Fall Colors Festival, Jeremy immediately volunteered to show off his tree-climbing equipment at the event and help those who dare try to climb a tree with it.
Then we got a massive donation of pumpkins and apples from Beasley's Orchard in Danville for this event. I mean, they really outdid themselves with their generosity. Great people there!
So that's going to allow us to offer pumpkin-carving at the Fall Colors Festival for FREE! That's right, you'll be able to take home your own hand-crafted jack o' lantern and not spend a dime on it. We have pumpkin-carving tools and everything, so we've got you covered.
There will be demonstrations on how apple cider is made, and those demonstrations will include free samples of freshly-pressed cider! Yum!
Kids will enjoy face painting and games and crafts at the Fall Colors Festival. I suppose adults could enjoy that stuff, too. Who doesn't want a pumpkin or a colorful leaf or something like that on their face? Adults, kids, it doesn't matter. We don't judge.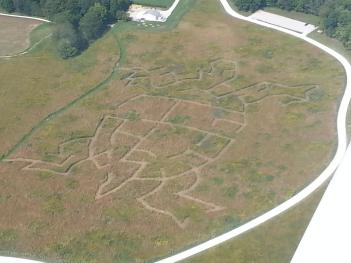 And, of course, you'll have access to the trails, the bridge, Big Walnut Creek, the Nature Center, and our turtle-themed prairie maze while you're there. Be sure to bring a camera with you!
We're going to have a bonfire going all day. And while you're hanging out at the bonfire, you'll notice that you can purchase food items.
We'll have a caramel apple bar, walking tacos (or Frito pies, if you're from the South), and hot dogs and s'mores that you can cook over the fire with your family. We'll have apple cider to drink, too.
And don't worry -- we're not going to gouge you on food prices. We want you to be able to bring the whole family and some of the neighborhood kids with you to the Fall Colors Festival and be able to feed them without having to take out a second mortgage.
Food will be somewhere between a buck and five bucks, depending on what you're after. Not bad, right?
And if all of that wasn't enough, we're also offering hayrides! Again, we're charging a nominal fee for this, but we're also not out to force you to hock your jewelry just to enjoy a 20-minute ride along some of the trails under the brilliant fall foliage. So we're keeping the price down at $5 per person or your entire immediate family for $10. Got the spouse and two kids? $10. Four kids? $10. Twenty kids? Lord help you, and $10.
If you're super energetic, come out to McCloud Nature Park a little early on the morning of the Fall Colors Festival and take part in the Fall Colors Run! Running and walking enthusiasts can tackle a one-mile, 5K or 10K course along McCloud's trails and enjoy the fall colors that way. Finishers will earn themselves a commemorative winter hat, and they'll be entered to win some neat giveaways.
The Fall Colors Run is $30 per person, or you can register your entire family (up to six family members) for $60. For more information about the Fall Colors Run, and to register for the event, click here.
Not a runner? No worries. Neither am I. You don't have to participate in the Fall Colors Run to enjoy the Fall Colors Festival. Just come on out to McCloud Nature Park at 10 a.m. (or runners, stick around immediately after the race), and spend the day with us!
(Feature photo of autumn foliage at McCloud Nature Park courtesy of Julie Randall, Parks Foundation of Hendricks County)