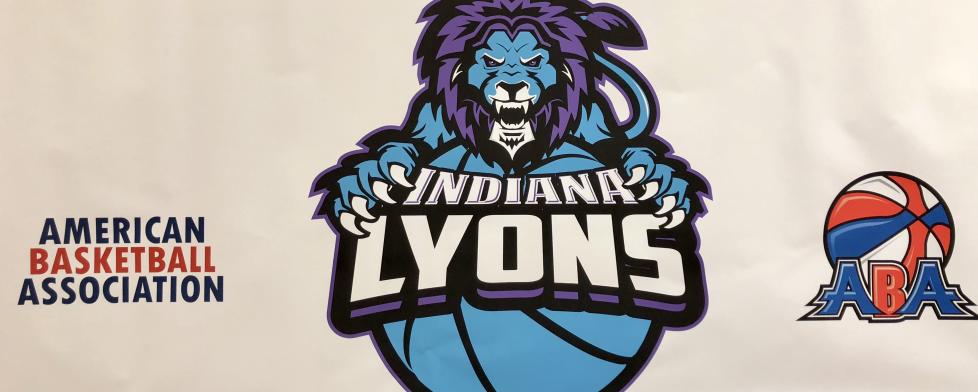 Over the course of my lifelong sports fandom, I have developed an affinity for minor league teams, so when I learned that the American Basketball Association (ABA) has a new team based right here in Hendricks County, I had to check out the Indiana Lyons play their inaugural game at historic Bosstick Gym in Danville, Ind. 
The modern-day ABA is a relaunch of the ABA that gave us the Indiana Pacers, among other teams, and which merged with the NBA back in 1976. The current ABA came to life in 1999 and now boasts over 140 teams across North America, all of whom focus on giving back to their communities. Tyrone Brown, a business owner in Avon, Ind., created the Indiana Lyons in 2018, and they played their inaugural ABA game against Detroit's Team Network on Nov. 3 at Bosstick Gym.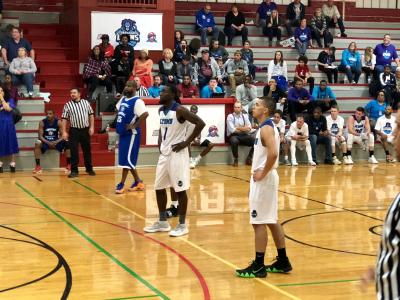 I love minor league sports teams so much that I had to try a Lyons game.
Why Minor League Sports Are Great
I've gone to an untold number of minor league football, baseball and hockey games, and they all provide the same thing. Athletes compete for the love of the sport, getting paid peanuts -- or in the case of the Indiana Lyons, nothing at all.
Sporting arenas are cozy, fans can easily get close to the action, the athletes and coaches are very accessible, the games are fast-paced and the teams make you feel welcome to be there. Minor league sporting events are also family-friendly and inexpensive to attend.
You get an entirely different experience with minor league sports, and in my opinion, it's a much more enjoyable experience.
My Indiana Lyons Experience
I parked for free right across the street from Bosstick Gym and paid $10 for a game ticket at the door. They offer basic concessions -- hot dogs and popcorn, along with cold soft drinks and water -- but the prices rival those at my daughter's youth softball games. Very reasonable.
I found a spot in the Bosstick Gym bleachers right in the front row. From there, I could hear the players talk to each other, strategizing with and encouraging one another as they warmed up. A man from the Lyons organization walked by the stands, greeted the fans and thanked them for coming. 
Occasionally, a red, white and blue basketball got away from the players and came into the stands, allowing the fans to feel the same basketball that will be used in the game. Elementary school-aged girls served as the team's cheerleaders. Upbeat music played throughout the gym. It was a fun atmosphere!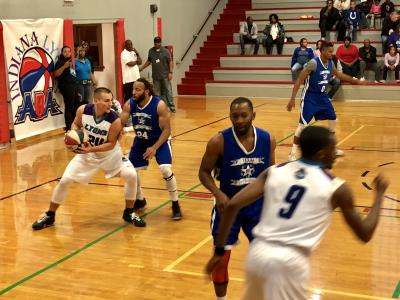 The Players
The Lyons players vary wildly in size, age and skill level. There's a little guy with a receding hair line named Billy Chandler who is comically listed as 5'10" in the program. There's a big balding center named Aaron Light whose beard is half-and-half salt and pepper. I envision him in my mind as a pediatrician or a scientist in a lab coat off the court.
Then there's a skinny forward named Isaiah Johnson who looks like he just graduated from high school last week. A couple of guards, William "Mike" Pugh and Jaelan Manson, stand out as lean, mean basketball machines who can slam dunk with minimal effort. What all of these diverse Lyons had in common, though, was they were living a dream while they warmed up. And I loved it.
After forward Claudel Dickantone made a sweet shot from way downtown during warmups, I blurted out, "Oo! Nice shot!" Since Dickantone had shot it right in front of me, he heard me, and turned around with a big smile on his face and said, "Thanks, man!" That was cool!
The Game
The game's start was delayed a bit while we waited for the opposing team to arrive at the gym. Maybe they got stuck in traffic. I don't know. Glitches and bumps in the road aren't uncommon in minor league sports. You just roll with them. It's part of the charm of the experience.
Team Network eventually got there, and when they warmed up, they looked to be playing at a different level than the Lyons. Shots went in. Short players dunked. Passes were crisp. I immediately figured that I was about to witness a monumental blowout of the poor, hapless expansion Indiana Lyons.
When the game started, the shots continued to clank for the Lyons at first, but fortunately, Team Network was having no better luck. As it turned out, the Lyons played very aggressive, scrappy defense and forced a lot of turnovers.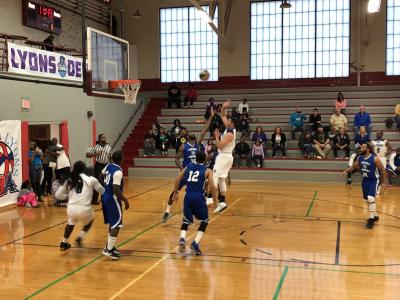 You'd have thought the Lyons had just won the NBA Championship when Lebanon native Cody Young buried the first basket in Indiana Lyons history to give the home team a 2-0 lead.
Indiana Lyons Roar
As the game progressed, the Lyons gradually took control. Pugh is a scoring machine. Manson and Young scored a ton of points, too, as did forward Preston Case.
At the final buzzer, the Indiana Lyons earned themselves a 104-97 victory in their inaugural ABA game. The players and coaches were downright jubilant.
I loved all the action and hustle of the game. I loved the smiles I saw on all of the players' faces, and I loved that they'd literally pick each other up off the court after collisions, regardless of jersey color.
I loved the raucous crowd. I loved seeing all the kids in the bleachers. I loved that every member of the Lyons organization that I encountered expressed their happiness that I was there. I loved that one of the players talked to me. And I loved that I only spent $10 for over two hours of entertainment.
Well, I actually spent $25 because I bought myself a $15 Indiana Lyons t-shirt after the game so that I'll have something to wear at their next game. The Lyons are my new team. I'll be back.
The next three Saturdays -- Nov. 10, 17 & 24 -- the Lyons host games back at Bosstick Gym against two different Chicago teams and a Cleveland team. Home games always begin at 5 p.m. with doors opening at 4 p.m.
I hope to see you and your family there!
Indiana Lyons