I'm a bit of a farmers market addict. I like to visit as many markets as I can during the summer. It's a fun time to walk around, speak with vendors, buy produce, homemade goods (breads, cupcakes, frozen casseroles, honey, pasta, pies) and other items and get a bit of cooking inspiration.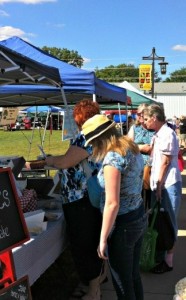 My most recent exploration led me to the 
Brownsburg Farmers Market
. Although I had been to several of the 
Hendricks County
 farmers markets, I had never visited Brownsburg's Thursday night market. A coworker of mine who lives in Brownsburg and who is a regular farmers market attendee, told me she really enjoys the market and I needed to go.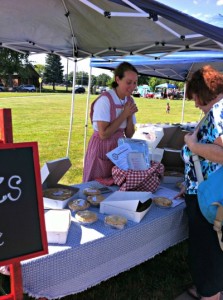 The Brownsburg Farmers Market is held from 4:30 to 7:30 p.m. every Thursday. For those who may have regular weekend obligations, the Thursday night market provides a perfect option. Grab your friends and family, meet up at the market and then go out for a bite to eat afterward. Sounds like a fun evening right? Don't miss an opportunity to attend the Brownsburg Farmers Market every Thursday evening (through September 5). Hope to see you there this week!
Details
What, When & Where: Brownsburg Farmers Market (sponsored by IU Health West) 4:30 -7:30 p.m. Thursdays through Sept. 5, at Brownsburg Town Hall, 61 N. Green St.
Family-friendly: Of course, this is a popular event for families.
Dog-friendly: Yes! My dog Louis missed seeing several dogs. There's even a vendor who sells dog treats. I'm bringing Louis with me this week. He'll have a blast.
What's there: More than 20 vendors with everything from baked goods and produce to bonsai plants and jewelry. Did I mention kettle corn? It's there too!
Want to know more about the vendors? Check here for the list of regular vendors.
What I liked: You'll find inexpensive produce (I left with peppers, cucumbers and Indiana tomatoes), baked goods, meats, savory goods, homemade items (candles, jewelry, other arts). I especially loved the made-to-order lemon shake-up and the bag of homemade BBQ pork rinds (so addictive)
Parking: Close parking available.
Stroller and wheelchair accessible: Yes, there are sidewalks for those with strollers or for those with limited mobility.
Hungry after the market?
I worked up an appetite after the market and stopped at 
Dawson's Too Sticks & Stones
 for some of the best fish and chips (with homemade tartar and remoulade sauces). So good! Need some other restaurant suggestions? Visit 
here
.