There's always a lot happening in 
Hendricks County
, including an exciting festival on Saturday, July 20 in 
Brownsburg
: The 35th Annual Festival of the Arts.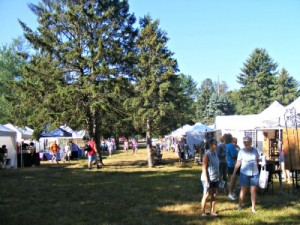 One of my favorite things about summer is attending as many festivals as I can. I'm an art fan, and I like to purchase jewelry and other items featured at art festivals. Attending an art festival is a great opportunity to have one-on-one conversations with the vendors or artists. I always enjoy having a bit of the back story to go with the art I purchase to learn where and how the art was made. This will be my first time attending the Festival of the Arts, so of course I had to get the scoop and share it with you.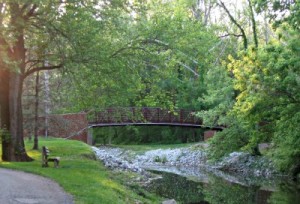 2013 marks the 35th year for this rain-or-shine festival (a few thousand people attended last year) held in 
Arbuckle Acres Park
. You'll find 165 fine art and craft vendors showcasing glass, jewelry, paintings, pottery, wood and more. All of the products sold by vendors are handcrafted, and there's a variety of price points available. I like to plan ahead and pick up birthday gifts and holiday gifts at art festivals. My mom and aunts are fans of jewelry and pottery, so that's what I'll be seeking. What about you? The great news is you can even bring the kids as there will be plenty to keep them busy while you're shopping. A children's tent, sponsored by IU Health West, will of course feature art activities. Let's talk food. I'm always hungry after a bit of shopping. You'll find plenty of food vendors, including dessert at 
Petunia, the food truck from The Flying Cupcake
. You must try one of their famous cupcakes, like the Red Velvet Elvis (red velvet cake, with chocolate and cream cheese and white chocolate frosting on top). While you're enjoying your food, you can listen to live and local entertainment. I've got July 20 marked on my calendar as I'll be attending with some family and friends. I'm looking forward to seeing you there. Here's what you need to know:
Where: Arbuckle Acres Park, Brownsburg
Time: 8 a.m.-3 p.m.
Admission: $3 a person and children 12 and under free
Parking: Three gates will be marked with "Welcome" flags, and there will be a traffic officer at the entrance of the park. Arrive early as this is a popular festival!
What about the kids: Bring them. There is a children's tent with art activities and plenty to keep the kids entertained.
Other entertainment: Live and local music throughout the festival.
What if it's raining: This is a rain-or-shine event with tents and misting fan areas if needed.
Insider tip:
If you plan to arrive early, stop at
Hilligoss Bakery
 to pick up a few donuts to enjoy before you get to the Festival of the Arts.
If you've attended the Festival of the Arts previously, let us know if you have any tips in the comments section below.