I was driving through downtown Plainfield in Hendricks County, Indiana, with my daughter recently when a little shop tucked back off Main Street caught my eye: Toy Buzz & Fizz. Being a big kid at heart, I had to check it out.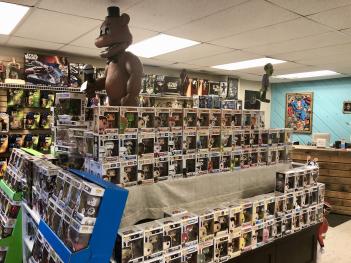 The holidays aren't far away, I explained to my 13-year-old daughter, and I have to shop for her and her sister, plus my nieces and nephew, so it would be downright irresponsible of me not to investigate a new toy store in town.
"Uh huh," she said, rolling her eyes. "Sure, Dad. Let's go see what they have."
As it turns out, Toy Buzz & Fizz isn't a new store -- it's only new to Plainfield, opening there in June. For the previous four years, it was located in Gizmo's Galleria in Brownsburg. An opportunity opened up in Plainfield that suited their needs a little better, so they moved south this summer.
An Adult's Perspective
As we walked into the shop, we were greeted by a huge display of Funko Pop! characters of all kinds -- superheroes, supervillains, Star Wars characters, cartoon characters, Fortnite characters and more. They must have more than 100 of them, so if you have a Funko Pop! fan on your holiday shopping list, go visit Toy Buzz & Fizz.
There is an entire wall of Star Wars action figures and vehicles -- some of which I remember from my childhood and some of which are new items.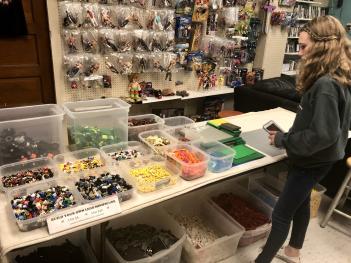 The wall directly across the store from the Star Wars display is lined with superheroes -- Batman, Superman, the X-Men, Daredevil, Guardians of the Galaxy and just about every hero and villain you can think of.
Again, some of the merchandise is new and some is vintage. They even have loose action figures, so if I want to add The Riddler and The Joker to my Batman play set, I can purchase the two villains individually at a low price rather than purchasing a huge set to get them.
We walked to the back of the store, and it was like walking into my bedroom as a kid: Legos and Hot Wheels everywhere. I also found lots of awesome comic books in the back room, too.
So from an adult's point of view, Toy Buzz & Fizz is a toy collector's paradise, mixing new with vintage. It certainly took me on a stroll down memory lane.
But who wants to hear about a toy store from an old man, right? So allow me introduce you to my 13-year-old daughter, Natalie, and let's see what her thoughts are about Toy Buzz & Fizz in her blogging debut.
A Kid's Perspective
There were so many toys there including Legos, WWE figures and POP figures. For the Legos, there were loose pieces to build your own people and terrains. You could also get spare people and other objects just in case you lost some of your pieces. I personally liked that they had LEGO Friends sets.
They also had a wide variety of other toys. Toy Buzz & Fizz has a bunch of video games as well. You are able to try them out on their TV in the back room.
One unique feature of this toy store is they sell sodas. They have a many different flavors for people to choose from. One of the energy drinks is in a can that looks like Duff beer from The Simpsons. They have others in cans featuring Bob Ross and Dragon Ball Z and more, plus interesting flavors like black cherry soda.
Overall, this is a nice toy store that everyone should check out. 
Well, there you have it. Toy Buzz & Fizz is recommended for a visit by an adult and a kid alike! Stop by and see for yourself!
Toy Buzz & Fizz
(317) 742-7730
Open Tuesday and Thursday through Sunday, 11 a.m. to 8 p.m.; open Wednesday 4 to 8 p.m. and closed on Mondays
Major credit cards accepted