It's been a thrill to be a blogger for
Visit Hendricks County
. Although I live in Indianapolis, one of my joys in life is to explore new places. Looking back, there were so many Hendricks County places I visited in 2013, that I thought I would share a few of my favorite stories. I hope this provides you with some inspiration to get out and explore Hendricks County in 2014.
Local and Lovin' It
This feature was so much fun because I got to ask locals for their opinions on favorite places in Hendricks County. I appreciated finding out about must-visit restaurants or hearing what they love about their communities. A couple of my favorites were: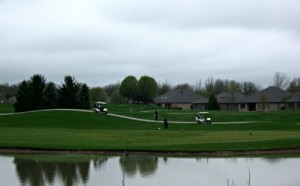 Jeremy Allen - West Chase Golf Club
 -- 
I play golf and was pleased to meet the general manager and golf professional at West Chase Golf Club in Brownsburg. Jeremy shared a few of his favorite Hendricks County restaurants and even provided me with a few golf tips. I'm looking forward to spring and playing a round at West Chase Golf Club.
Shane Ray - owner and operator of XRB Radio
 -- It was fun speaking with Shane, who has one of the best radio voices! We chatted about his background in radio, and he shared a few of his must-see places for visitors to Hendricks County.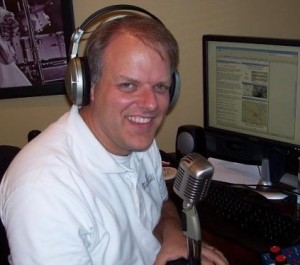 Shane also shared his favorite Hendricks County local breakfast spot. It was a real treat to get a behind the scenes tour of XRB Radio, and since then I've been a regular listener.
5 Off-the-Beaten Path Places in Hendricks County
 -- I read a lot of travel books, and I always enjoy reading about off-the-beaten path places that maybe only locals know about. I did a little bit of research and shared five places that might even surprise some Hendricks County locals.
Brownsburg Farmers Market
 -- I've visited all of the farmers markets in Hendricks County, which I would recommend to anyone. But I particularly enjoyed my visit to this popular Thursday night market in Brownsburg.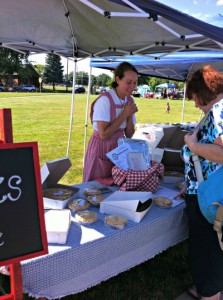 I purchased inexpensive produce, sipped on a fantastic lemon shake-up and tasted some of the best homemade pork rinds. My dog, Louis, enjoyed the dog-friendly atmosphere and got plenty of exercise.
My family and I also ate a lot of good food this year in Hendricks County. Here are just a couple of the places I had fun visiting and writing about.
Black Swan Brewpub
 -- This local restaurant and brewery in Plainfield is conveniently located near Indianapolis International Airport and is a stop along the 
Rural Routes to Main Street Cultural Trail
, which showcases artisans in Hendricks and Morgan counties.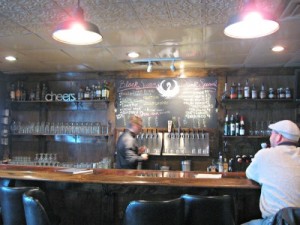 At this family-friendly restaurant, you'll find pleasing pub fare, like their Signature Reuben, and make sure to try their Black Swan Fries. Adults will enjoy their selection and variety of craft beer (made on site).
Hilligoss Bakery
 -- This locally-owned, full-service bakery in Brownsburg has some of the best doughnuts I've ever tasted. I'm partial to their cake donuts with chocolate frosting.
In my opinion, a homemade, warm doughnut is worth getting up early for.
Savor Thyme Cafe
 -- This charming, independent restaurant in Brownsburg, lovingly restored and tastefully decorated, has already gained a loyal following in it's six months in operation.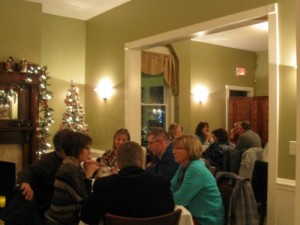 Savor Thyme Cafe specializes in fine dining with American, French and Italian influences. Check their
website
 for a list of events, like cooking classes and wine dinners, which I highly recommend.
I'm looking forward to spring so I can sit outside at one of their outdoor tables on their wrap-around porch and enjoy their famous Sunday brunch.
Thai Restaurant Showdown
 -- I have a weakness for Thai food and had a great time visiting 
Thai Thai
 in Avon and 
Thai Orchid
 in Plainfield. I tasted a variety of dishes at both restaurants and could not decide which restaurant I liked better. It's fun to know there are so many good
ethnic restaurants in Hendricks County
. It's a wonderful experience to be part of the Visit Hendricks County blogging team. I've got lots planned for 2014 and look forward to seeing more of Hendricks County and sharing my thoughts and photographs with you. Here's to a great season of fun, travel and food!