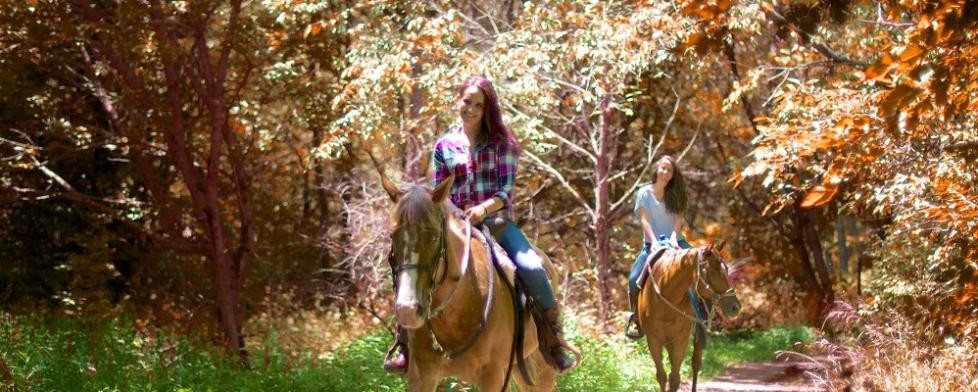 Many schools are on fall break this week and next, so I wanted to come up with some insider tips on how to make the most of your time off by visiting Hendricks County if you are looking for a more affordable option that is closer to home.
My first tip that almost goes without saying is to be sure to browse the many Visit Hendricks County blog posts that go up daily during the week. I'm certain you'll learn about an event or attraction you never knew about before. You can even sign up to be a subscriber there to be notified whenever a new story is posted.
Here are just a few of my personal favorite ideas for fall break ideas in Hendricks County...
Enjoying the Outdoors
The weather forecast for the coming week is pretty great. So, if you're like me, you'd first look for options that include getting out and enjoying the weather - while we can.
As I've mentioned in a previous post, we have an incredible selection of parks in our county. Whether you're a local or a visiting fall breaker, you don't have to wander far to find a great park that has numerous amenities - open space, walking/hiking trails and playgrounds. An afternoon at the park is always our family's go-to. Check out my post for three of our favorites.
Another fall favorite for our family is a horseback or pony ride. Lucky us, we have a beautiful ranch right here in Hendricks County.
Natural Valley Ranch 
Natural Valley Ranch is a great place to take your little adventurers or animal lovers. This 78-acre ranch in Brownsburg boasts horseback riding, a petting zoo, pony rides, catch-and-release fishing and lodging.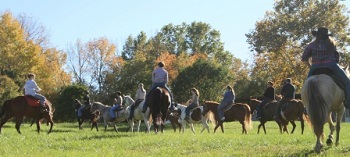 Guided trail rides are offered in lengths of 30, 60 and 90 minutes. 
Guests will be taken on a scenic tour of the beautiful property at Natural Valley Ranch.
Trail rides can be scheduled Monday-Sunday. Call or text (317) 509-3577 for availability and to schedule your trail ride.
Gorgeous scenery and relaxing horseback trail rides are just a few of the reasons this ranch remains a popular destination in Hendricks County. But truth be told, my kids always seem more enamored by the goats and free-roaming chickens and cats. That's right, the ranch is also home to a petting zoo.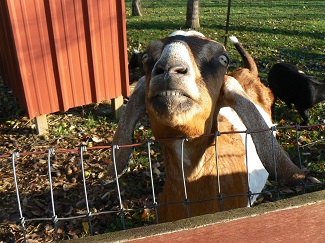 The petting zoo is free for guests to enjoy, but a $2 donation is recommended.
The petting zoo is open Monday-Friday from 10 a.m.- 1 p.m. and 4-7 p.m. Saturday hours are 10 a.m.-6 p.m. and Sunday 11 a.m.-4 p.m.
Pony rides are $5 per person. Call for availability and schedule your pony ride by calling (317) 509-3577.
There's plenty of reasons to put a day at Natural Valley Ranch on your fall break "to-do" list.
Beasley's Orchard 
Another outdoor activity my family enjoys this time of year is a trip through the corn maze at Beasley's Apple Orchard in Danville.
They just wrapped up the final day of their Heartland Apple Festival, but if you didn't make it out during the event, you still have time to take advantage of this popular fall attraction.
This year's corn maze theme pays tribute to the classic Ford Mustang. The four miles of "Mustang Muscle" pathways can be completed in as little as 30 minutes, but many take their time and spend at least an hour making their way through the maze.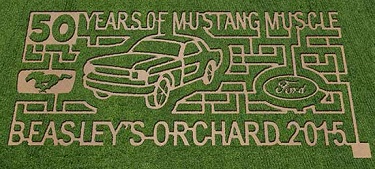 Tickets are $7 for guests 3 years and older - children 2 years and under are free.
In addition to the corn maze, Beasley's also offers tractor-drawn hayrides to their 15-acre U-pick pumpkin patch. Guests can hitch a scenic ride for $3 per person - children 2 years and under are free with adult. Hayrides to the pumpkin patch operate on the same schedule as the corn maze.
They also have a new Barnyard Bonanza this year with all kinds of fun activities including some ball toss games, a giant jumping pillow and more. For more information about Beasley's Orchard, click here. 
All of these activities and more are available now through Oct. 31 on Fridays and Saturdays from 10 a.m.-5 p.m. and Sundays noon-5 p.m.
They have even extended their hours this week and next only for you fall breakers as they are open Monday-Thursday from 1-5 p.m.
Monster Mini Golf
With Halloween fast approaching, this would be the time of year that my children most request a trip to Monster Mini Golf in Avon. 
It's hard to describe this venue if you haven't seen it yourself. The interior of Monster Mini Golf is extravagant and captivating. Giant monsters and creatures cover the facility and come to fluorescent life under the black lights. An in-house DJ provides a mix of upbeat and spooky music - the perfect soundtrack for this attraction. Even modest mini-golfers will enjoy a round or two.
Monster Mini Golf is open from 11 a.m.-9 p.m., Mondays-Thursdays; 11 a.m.-10 p.m. Fridays; noon-10 p.m., Saturdays and noon-8 p.m., Sundays. 
Tickets for one 18-hole round are $7 for children and $8 for adults. Click here for special offers - different deals are offered daily.
UPaint Pottery Studio 
Looking for a creative activity? Artists and amateur crafters will undoubtedly enjoy a little time spent over fall break at uPaint Pottery Studio in Plainfield.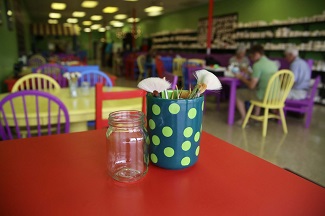 If this is your first trip to the studio, here are some things you should know:
No art experience is necessary. The studio has a friendly staff that is there to help.
All materials are provided. A $5 studio fee covers the cost of paints and materials.
Pottery pieces range from $5-$80.
The atmosphere at the studio is so inviting and relaxing. Children really enjoy the process of choosing their pottery piece, looking through design books and of course, painting their piece.
Pieces made by kiddos at uPaint Pottery Studio make fantastic, personal gifts for friends and family. I know it's fall break, but Christmas will be here before we know it.
When guests finish painting their piece, the studio will fire it and have it available within 7 days for pickup. If you're traveling from out of town, the studio will gladly ship your fired piece for a small fee.
The studio is open 11 a.m.-8 p.m., Mondays-Thursdays 11 a.m.-9 p.m., Fridays 10 a.m.-8 p.m., Saturdays and noon-5 p.m., Sundays. Guests can bring their own refreshments.
You obviously can package some of these ideas together or with any other activities that interest you on either the Hendricks County Insider blog or the Visit Hendricks County website to make your trip an extended week or weekend. There is plenty to do, and Hendricks County also has some great, affordable accommodations, restaurants and shopping.
Whatever fall break holds for you and your family, I'm sure you'll find plenty of ways to enjoy the time right here in Hendricks County.