I can't stand the heat. You'd think that living in Texas for a decade would have cured me of that. But that experience only made my disdain for heat and humidity even worse. As such, this summer here in Central Indiana has been
brutal
for me.
Last month, Jennifer Donovan reviewed some
great ways to cool off
outdoors in
Hendricks County
, but after this most recent spell of temperatures soaring over 100 degrees nearly every day and the recent closing of the Splash Pad in Avon, Indiana, because of the water restrictions, I've reached the point where I don't even want to go outside very much anymore. So I've put together a list of my favorite family-friendly indoor activities that keep me and my kids out of the sun without breaking the bank. Here's what I have so far, and I'm looking for some more ideas from you to add to the list.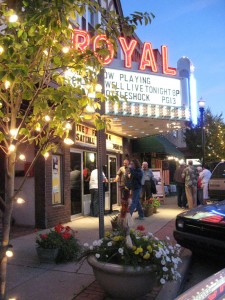 Movies
I love movies. I love air-conditioned theaters. I don't love dropping $50 for tickets and candy for me and my two kids, though. So the free summer movie schedule -- every Wednesday at 10 a.m. and 1 p.m. through Aug. 1 -- offered by
the Royal Theater
in Danville, Indiana, is perfect for me. Admission is free, and kids' snack packs are $4 a piece. Check out
the schedule here
. The Rave Motion Pictures in Plainfield, Indiana's
Metropolis Mall
is also offering free kids' movies this summer. On Mondays and Thursdays through Aug. 2, the Rave is showing movies that are rated G and PG. Doors open at 9:30 a.m., and the show starts at 10 a.m. Check out
the schedule here
.
Bowling
One of my favorite places to take my kids is
Brownsburg Bowl
. It's a clean, modern, air-conditioned bowling alley, and the website routinely provides good specials and
coupons
. They have bowling balls and shoes for kids, those rack things that help little kids bowl by utilizing gravity, an arcade, food and drinks for purchase, and the best part:  automatic bumpers. You can tell the computer which bowlers to use bumpers for and which bowlers for whom they should be retracted. Now my wife can't beat me at bowling by cheating and using the bumpers that are out for the kids.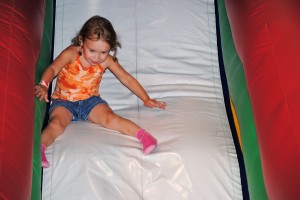 Bounce House
Are your little angels bouncing off the walls? Well, let them release some of that energy where bouncing is encouraged at
Jump 'n Play
in Avon. Kids under 2 cost $5 to play. Kids over 2 cost $7 a piece. The big kids (adults) are free. There are big bounce houses for kids to climb up and slide down, including one reserved for younger kids so that your toddler doesn't get bounced into the stratosphere by a 10-year-old. There are video games, basketball hoops, rooms available for birthday parties, and food and drinks for purchase. You can stay in the air-conditioning as long as you want while your kids run themselves into the ground.
Libraries
Yes, they still exist, and Hendricks County is home to six of them. Need some 411 on them all?
Check here
. Libraries
constantly
have stuff going on -- especially in the summer -- for low or no cost. Take the kids and get lost in a book, participate in an activity, make a craft, meet up with friends and more. The beauty of public libraries is that they're free and air-conditioned.
Let's Share Ideas
I love learning new ways to beat the heat. For example, I get a lot of ideas from
Indianapolis With Kids
, which frequently discusses
activities in Hendricks County
. That's where I learned about the free movies in Plainfield, in fact! Sharing ideas is great! So share with me fellow parents:
Where in Hendricks County do you like to take your kids to beat the heat?